Parking Services
Pay & Display Machines Unavailable
Pay & Display machines across campus will be unavailable beginning Wednesday, June 7th as they undergo an upgrade.  Please utilize Honk Mobile to make payments during this time.  Signage will be posted in areas where the machines are normally located with this information.  Machines will be returned to their locations as soon as the upgrade is complete.
---
Convocation Parking
Parking Services would like to remind our permit holders that convocation ceremonies are taking place on campus from June 12, 2023-June 23, 2023.  Parking volumes will be significantly higher than normal during this time.  Huron Flats, Medway and South Valley lots are designated for parking during convocation.  We strongly encourage those who normally park in these lots to park in other areas, where your permit allows, over these two weeks. 
For our Convocation guests, signage will direct you to convocation parking areas on campus.  
          * June 7 ceremony (Schulich), parking will be available in the South Valley parking lot. 
          * June 12-16 ceremonies, parking will be available in the South Valley and Medway parking lots.
          * June 19-23 ceremonies, parking will be available in the South Valley and Huron Flats parking lots.
 
Shuttles to Alumni Hall will be offered from these locations.
Accessible parking and parking for those with small children will be available in the Alumni Thompson parking lot for all convocation ceremonies.
Please see our parking map for directions.  
We thank you for your support and cooperation during this exciting time on campus as we celebrate our students!
---
Bike Lockers
50 new bike lockers are currently being installed on campus. This will more than triple the number of lockers at Western.    
Locations include the Advanced Facility for Avian Research (AFAR), Upper Support Services Building (SSB), Concrete Beach, Health Sciences Building (HSB), Amit Chakma Engineering Building (ACEB) and the courtyard between the Natural Sciences Centre (NSC) and Biological & Geological Sciences (BGSB).
Visit Bike Lockers - Parking & Visitor Services - Western University (uwo.ca) for more information.
Please email wparking@uwo.ca to have your name added to the waitlist.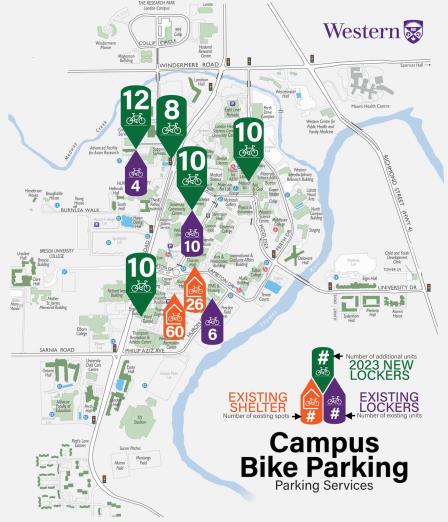 ---
Student permits for the 2023/24 academic year are scheduled to go on sale June 15, 2023.  Permits are sold on a first come, first served basis each year.  We suggest purchasing early as permits sell quickly.     
Click here for information related to STUDENT PERMITS and where to park if you don't have a permit.
---
Parking access on campus remains the same during the summer months. Please review the individual lot details for information.
Students are able to access the following lots with their permits during the summer:
Medway
Huron Flats
South Valley (after 10am)
Westminster
Ontario Hall
Althouse Student
Springett Student
---
Weldon Lot Closure Notice May 15- September 1, 2023
The Weldon parking lot will be closed beginning May 15, 2023 due to construction related to the Entrepreneurship & Innovation Centre.  Visitors can find additional parking in the Alumni Thompson parking lot or the visitor section of the Springett parking lot.  
https://www.uwo.ca/ppd/uwosi/WL%20Parking%20Lot%20Closure%20May%2015-September%201%202023.pdf
---
Visual Arts Lot Closure
Due to a construction project along Perth drive, access to the Visual Arts parking lot will be restricted beginning May 1, 2023.  We anticipate the lot will reopen by August 31, 2023.  
The EV charging station located in this parking lot will also be unavailable until construction is complete.  We apologize for the inconvenience and appreciate your cooperation during this time.
https://www.uwo.ca/ppd/uwosi/WIRB%20Manhole%20E%20Chilled%20Water%20%26%20Steam%20Service%20Installations%20May%204-September%201%202023%20NOPDF.pdf
https://www.uwo.ca/ppd/uwosi/VAC%20Parking%20Lot%20%26%20Sidewalk%20Closure%20May%204-September%201%202023.pdf
---
What We Offer