Parking Services
Student Annual/Fall Term/Winter Term Permits and Reserved Permits are now SOLD OUT.
Student Summer Term Permits (May 1 - August 31) are now available for sale online and at the front counter.
Student permits for the 2023/24 academic year are anticipated to go on sale June 15, 2023.  Permits are sold on a first come, first served basis each year.  We suggest purchasing early as permits sell quickly.     
If you have been unable to purchase a Term Two Permit and would like to be on the waitlist, please email wparking@uwo.ca from your Western email. Being on the waitlist will not guarantee that you will be able to obtain a permit as we work through the list on a first-come, first-served basis. Thank you for your understanding.
Click here for information related to STUDENT PERMITS and where to park if you don't have a permit.
---
 Student Permit Update- Medway and Westminster Parking Lots
One month student permits, for the Medway and Westminster parking lots, are now available through the Honk Mobile app.  These permits are currently available for the month of April 2023. 
To purchase, select the "Long Term" parking option in the Honk app. This permit only allows parking in the Medway parking lot.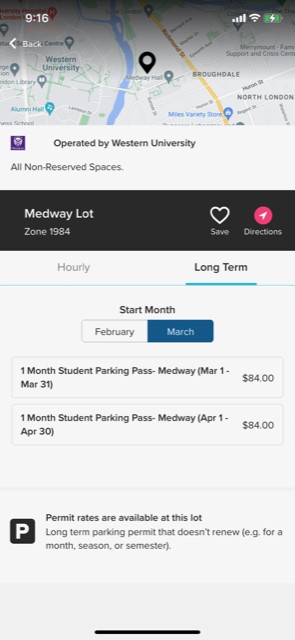 ---
The parking gates are now up in the Huron Flats Lot, Althouse Student and Medway to trial mixed permit/visitor parking with Honk Mobile. Click the above link for for information!
---
What We Offer