---
Campus Roadway Closures - Homecoming 2022
To help with pedestrian safety as our community celebrates Homecoming 2022 certain campus roadways will be closed to vehicles on Saturday, September 24:
From 7 am to 7 pm the following roadways will be closed to vehicle traffic:
University Drive from Richmond to the Talbot Intersection*

Lambton Drive from the Talbot Intersection to Kent Drive

Huron Drive from Lambton Drive to the South Valley parking lot entrance
*University Drive from Richmond to the Talbot intersection will remain closed until 2 am, Sunday, September 25.
Due to the road closures and events on campus the following lots will be inaccessible:
Medway lot will be closed from 7 am to 2 am
Talbot lot will be closed from 7 am to 7 pm
South Valley and Huron Flats lots - reserved for football ticket holders
Pedestrians and cyclists will have access to campus via University Drive Bridge during the road closures.
Follow Western's social media accounts for more information.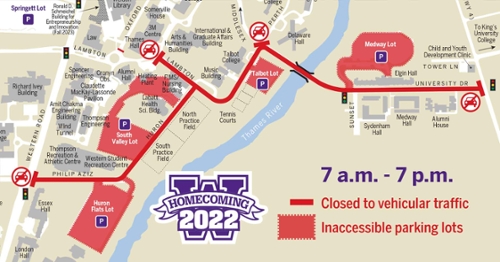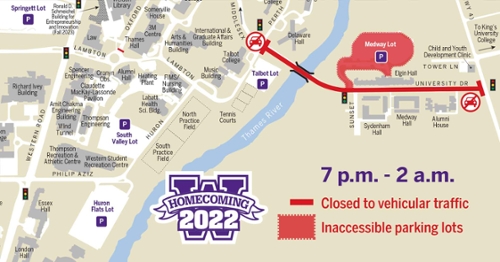 ---
Student Annual/Fall Term Permits and Reserved Permits for the upcoming academic year, beginning September 1, are now SOLD OUT.
Term Two Winter Permits are expected to be available for purchase online on November 15.
If you have been unable to purchase an Annual or Term One Permit and would like to be on the waitlist, please email wparking@uwo.ca from your Western email. Being on the waitlist will not guarantee that you will be able to obtain a permit as we work through the list on a first-come, first-served basis. Thank you for your understanding.
Click here for information related to STUDENT PERMITS and where to park if you don't have a permit.
Permit hang tag pick-up information is HERE.
---
The parking gates are now up in the Huron Flats Lot to trial mixed permit/visitor parking with Honk Mobile.
---
What We Offer