Raj Vasdev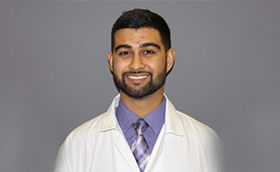 Can you tell us about your academic background? What were your undergraduate and graduate paths?
I started off in (I can't remember but) the equivalent of life sciences for my undergrad in pursuit of becoming a doctor. After realizing how terrible I was as cell biology, genetics, pretty much all the biological courses so I switched programs. I switched to Honours Specialization Chemistry because I found it quite interesting and it's the only class I did well in. I finished my undergrad and did a Master of Science (Organic Chemistry). 
What was your career aspiration in first-year and why? 
I wanted to become a doctor because everyone else wanted to become a doctor as well. I realized I didn't have what it took to do it so I screwed it and looked for other options.
Were you aware of any of the job options your degrees could lead to? Were you surprised by some job options?
I honestly had no idea where chemistry would take me. I was such a naive young man until I started using the internet for things other than memes. I was very surprised by the job options but that came when I attended Lauren and Patricia's internship information session. 
What challenges did you face throughout your undergraduate degree? 
I didn't learn how to study until second, I could never figure out why I was doing so poorly. I overcame that hurdle by googling different techniques on how to study. Once I found my method, I never looked back.  
How did you overcome the challenges you faced? 
I overcame that hurdle by googling different techniques on how to study. Once I found my method, I never looked back.  
What skills did you take away from your undergraduate years and internship that you find valuable today, in the work you do and in life? 
1) Interpersonal skills - I can't stress how important it is to be able to build relationships and being able to communicate with a variety of people from your thesis supervisor to potential employers
2) Discipline (not sure if this is considered a skill) - Honestly, knowing when to say no to parties. 
3) Patience - I know when you truly want something you got for it no matter what but sometimes you need to be patient and wait for the right opportunity. 
What is your current occupation, what was your path to get here? 
I currently work as a field service engineer for Agilent Technologies. I would say mostly networking. 
What do you value in a job to make you feel fulfilled? 
1) Culture/work environment
2) Flexibility 
3) Constant opportunities to learn and refine skills (ie. Training courses, computer-based learning, colleague shadowing) 
What advice would you give current undergraduate students/ or to your undergraduate self?
I used to and still constantly beat myself up for thinking that what I'm doing is not enough. Don't get me wrong there will always be things I can improve on. However, it is very important to self-reflect, really appreciate yourself, figure out what your positive qualities are, and make a plan to improve your negative qualities. There will always be help if you need it. You just need to love yourself. I guess I went on a bit of a tangent there but I can't stress how important it is to be yourself.