Featured Award Recipient
Patricia Corcoran,
 Fallona Family Interdisciplinary Science Award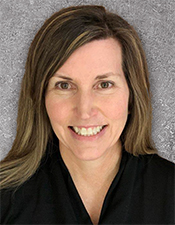 Patricia Corcoran is an Associate Professor and Chair of the Department of Earth Sciences at Western University. Recruited to Western in 2003, her research focuses on natural and anthropogenic sedimentary deposits in order to gain an understanding of Earth's changing surface and atmospheric processes through time. One significant element of Corcoran's research concerns the distribution, accumulation, and degradation of plastic debris in benthic sediment, surface water, and fish of lakes, rivers and oceans Her work on microplastics pollution involves collaboration with members of the Federal and Provincial Governments, local Conservation Authorities, First Nations Communities, and academics in the disciplines of chemistry, biology, engineering, statistics, mathematics, visual arts, and the humanities. Patricia Corcoran's research has been featured by media outlets across the globe, including National Geographic, the Huffington Post, Science Magazine, the New York Times.
Canada Research Chairs
The Canada Research Chairs Program fund some of the world's most accomplished and promising minds. Meet the Canada Research Chairs at Western Science:
Industrial Research Chairs
Neil Banerjee
Research Focus: Stable isotope biogeochemistry; Microbial alteration of modern and ancient oceanic crust; Evidence for early life on Earth; Formation and evolution of oceanic crust; Geochemical cycling at mid-ocean ridges; Formation of massive sulfide deposits at mid-ocean ridges; The origin and emplacement of ophiolites; Astrobiology.
Blaine Chronik
Research Focus: Improving MRI, developing new imaging methods, making magnetic resonance systems safe and compatible.
Gordon Osinski
Research Focus: Dr. Osinski's research interests are diverse and interdisciplinary in nature. His work synthesizes field, remote sensing, and laboratory observations with a range of geochemical data. His current research falls into three main areas: planetary geology, astrobiology, and economic geology.
Faculty of Science Distinguished Research Professorship
| | | |
| --- | --- | --- |
| Date | Recipient | Department |
| 1987 | J.D. Landstreet | Astronomy |
| 1987 | V.P. Snaith | Mathematics |
| 1987 | D.B. Walden | Plant Sciences |
| 1988 | R.J. Puddephatt | Chemistry |
| 1988 | R.F. Mereu | Geophysics |
| 1989 | B.G. Atkinson | Zoology |
| 1989 | F.J. Longstaffe | Geology |
| | | |
| --- | --- | --- |
| Date | Recipient | Department |
| 1990 | J.M. Marlborough | Astronomy |
| 1990 | G.M. Kidder | Zoology |
| 1991 | W.J. Meath | Chemistry |
| 1991 | R.B. Podesta | Zoology |
| 1992 | S. Caveney | Zoology |
| 1992 | P.J. Schultz | Physics |
| 1993 | N.P.A. Huner | Plant Sciences |
| 1993 | J.F. Jardine | Mathematics |
| 1994 | H. Jüngensen | Computer Science |
| 1995 | W.K. Hocking | Physics |
| 1995 | A.C. Weedon | Chemistry |
| 1996 | G.M. Bancroft | Chemistry |
| 1997 | V.W. Elias | Applied Mathematics |
| 1998 | X. Wu | Computer Science |
| 1999 | R.M. Corless | Applied Mathematics |
| | | |
| --- | --- | --- |
| Date | Recipient | Department |
| 2000 | C.D Ankney | Zoology |
| 2001 | N.O. Petersen | Chemistry |
| 2001 | H.W. Nesbitt | Earth Sciences |
| 2002 | P.R. Norton | Chemistry |
| 2002 | S. Watt | Computer Science |
| 2003 | S.M. Singh | Biology |
| 2003 | J.P. Guthrie | Chemistry |
| 2004 | D.W. Shoesmith | Chemistry |
| 2004 | J. Mináč | Mathematics |
| 2005 | V.A. Miransky | Applied Mathematics |
| 2005 | T.K. Sham | Chemistry |
| 2006 | M.A. Lachance | Biology |
| 2007 | J.S. Millar | Biology |
| 2007 | J.D. Christensen | Mathematics |
| 2008 | R. Lipson | Chemistry |
| 2009 | M. Karttunen | Applied Mathematics |
Date
Recipient
Department
2010
H.-B. Kraatz
Chemistry
2011
Xingfu Zou
Applied Mathematics
2012
Chris Guglielmo
Biology
2013
Peter Brown
Physics & Astronomy
2013
Irena Creed
Biology
2014
Blaine Chronik
Physics & Astronomy
2014
Charles Ling
Computer Science
2014
Yuri Boykov
Computer Science
2014
Zhifeng Ding
Chemistry
2015
Charles Trick
Biology
2015
Clara Wren
Chemistry
2016
Lars Konermann
Chemistry
2016
Charles Ling
Chemistry
2017
Paul Ragogna
Chemistry
2018

Lianna Zanette 

Biology
2018
Joe 

Gilroy

Chemistry
2018

Rick Jardine

Mathematics
2018
Stan Metchev
Physics & Astronomy
2019
Zoe Lindo
Biology
2019
Jamie Noel
Chemistry
2019
Pauline Barmby
Physics & Astronomy
2019
Marcos Escobar
Statistical and Actuarial Sciences
The Hellmuth Prizes for Achievement in Research
| | | |
| --- | --- | --- |
| Year | Recipient | Department |
| 1998 | William S. Fyfe | Earth Sciences |
| 1999 | G. Michael Bancroft | Chemistry |
| 2000 | Richard J. Puddephatt | Chemistry |
| 2001 | Michael Locke | Biology |
| 2003 | Peter Norton | Chemistry |
| 2005 | Ian V. Mitchell | Physics and Astronomy |
| 2015 | Shiva Singh | Biology |
| 2017 | Tsun-Kong Sham | Chemistry |
| 2018 | Gail Atkinson  | Earth Sciences |
| 2020 | Jeremy McNeil | Biology |
Distinguished University Professors
| | | |
| --- | --- | --- |
| Year | Recipient | Department |
| 2005 | Fred J. Longstaffe | Earth Sciences |
| 2005 | Richard J. Puddephatt | Chemistry |
| 2006 | Shiva M. Singh | Biology |
| 2006 | Robert M. Corless | Applied Mathematics |
| 2008 | Richard Kane | Mathematics |
| 2011 | Stephen Watt | Computer Sciences |
| 2014 | Jeremy McNeil | Biology |
| 2015 | Tsun-Kong Sham | Chemistry |
Faculty Scholars
| | | |
| --- | --- | --- |
| Year | Recipient | Department |
| 2005 | Matthew Davison | Applied Mathematics |
| 2005 | Richard Secco | Earth Sciences |
| 2005 | Mark Workentin | Chemistry |
| 2006 | John Corrigan | Chemistry |
| 2006 | Hanan Lutfiyya | Computer Science |
| 2007 | Shantanu Basu | Physics and Astronomy |
| 2007 | David Eaton | Earth Sciences |
| 2008 | Daniel Christensen | Mathematics/ Applied Mathematics |
| 2008 | Michael Kerr | Chemistry |
| 2008 | Mark Muser | Applied Mathematics/ Physics and Astronomy |
| 2008 | Bryan Neff | Biology |
| 2009 | Lucian Ilie | Computer Science |
| 2010 | Robert Hudson | Chemistry |
| 2010 | Heinz-Bernhard Kraatz | Chemistry |
| 2010 | David Riley | Mathematics |
| 2010 | Eugene Wong | Physics and Astronomy |
| 2011 | Kristy Tiampo | Earth Sciences |
| 2012 | Jan Cami | Physics and Astronomy |
| 2012 | Christopher Guglielmo | Biology |
| 2012 | Paul Ragogna | Chemistry |
| 2012 | Robert Solis-Oba | Computer Science |
| 2013 | Brent Sinclair | Biology |
| 2014 | Masoud Khalkhali | Mathematics |
| 2014 | Desmond Moser | Earth Sciences |
| 2014 | Paul Wiegert | Physics and Astronomy |
| 2015 | Zhifeng Ding | Chemistry |
| 2015 | Sean Shieh | Earth Sciences |
| | | |
| --- | --- | --- |
| Year | Recipient | Department |
| 2016 | Liana Zanette | Biology |
| 2016 | Victor Staroverov | Chemistry |
| 2016 | Sarah Gallagher | Physics and Astronomy |
| 2017 | Rogemar Mamon | Statistical & Actuarial Sciences |
| 2017 | Els Peeters | Physics and Astronomy |
| 2018 | Margaret Campbell-Brown | Physics and Astronomy |
| 2018 | Joseph Gilroy | Chemistry |
| 2018 | Gordon Osinski | Earth Sciences |
| 2019 | Lars Konermann | Chemistry |
| 2019 | Zoe Lindo | Biology |