System and Infrastructure Modernization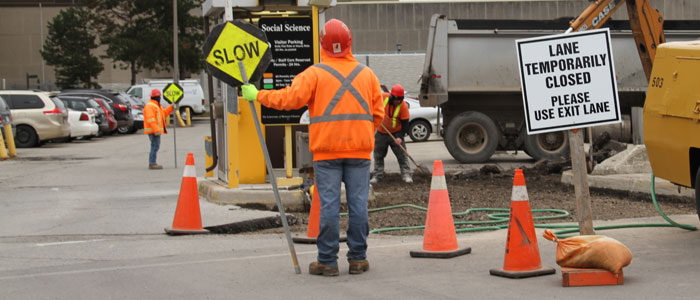 Project announcement
Parking Services is updating systems and infrastructure this summer which will have an impact on permit holders. The move will result in a better customer experience, offering new features that aren't possible with the current techonology (see "What's Changing" below for details).
The work will replace all campus parking gates, modernizing the current system which is end-of-life and increasingly difficult to support and maintain. Implementation will begin in April, with preliminary civil work, such as concrete and data conduit, getting underway. The project is scheduled to wrap up in late August.
The following are The Benefits to Customers as a result of the modernization;
Real-time management of lot capacity – limiting abuse by protecting permit holder rights.
Two lot access options. Newly issued hang tags will act as primary access. Western "One Cards" will also grant access to lots in lieu of a forgotten hang tags.
Permits will no longer require monthly sticker, renewal can be automated.
Enhanced online access to personal accounts, permits, and citations
Gated lots will be equipped with an intercom to communicate with parking representatives during business hours
Real-time parking status APP for smartphones/tablets

The following is What's Changing as a result of the modernization;
New gates and related hardware will be installed in all lots that are currently gated
Coin entry machines will be updated to accept credit cards only
Annual rate increase will be moderately higher than previous years (See below for details)

The following is What's Not Changing as a result of the modernization:
Parking lots that do not currently have gates will continue to be gate-free
Deposit fees will be transferred from current transponder to new hang tag automatically
Other services, such as motorist assist, bike locker rental, and portable sign rental are unaffected
Rate Changes;
| | | | |
| --- | --- | --- | --- |
| Permit Type | Current Rate ($) | Rate as of Sept. 1, 2016 ($) | Increase ($) |
| Perimeter Non-Reserved | 35.65 | 41.00 | 5.35 |
| Perimeter Reserved | 72.40 | 83.00 | 10.60 |
| Core Non-Reserved | 58.45 | 60.20 | 1.75 |
| Core Reserved | 117.60 | 121.20 | 3.60 |
For more information, Parking Services is maintaining a webpage dedicated to system and infrastructure modernization. The page will include progress updates and schedules, frequently asked questions (FAQ), and an opportunity to provide feedback. Follow the link and feel free to bookmark the page to see the progress; www.uwo.ca/parking/modernization. Updates to the site will be announced on Facilities Management's twitter feed; www.twitter.com/westernuFM.
Should you have any questions or comments, please feel free to connect with parking at parkingupdate@uwo.ca
FAQ
Parking is a gateway to Western and often the first contact the campus community has with campus. Anyone entering and parking a vehicle on campus may be affected by the project. We are making effort to reduce the impact on all of our stakeholders and apprecaite your patience as the work begins.
During various stages of the project, services to gate lots may be interrupted. Flagged detours and construction personnel will be on site to direct traffic and minimize delays. In the event of a single lane closure and/or significant interruption, notification will be posted on Facilities Management's Service Interruption calendar; http://www.uwo.ca/fm/uwosi.html
There will be no immediate change to visitor parking from a department level. Blue passes and special event parking will continue to be purchased through Parking & Visitor Services. There are plans to improve parking to electronic passes and print-at-home options following project completion.

There will be changes to coin entry lots. When the project is complete (at the end of August), the current coin entry system will change to credit card payment upon exit. Attended lots will continue to accept cash/coin, if that type of payment is preferred.
Hang tags will be replacing the current transponder. A focus group recently met to discuss the distribution process and Parking is currently working to fulfill the recommendations. Prior to assigning hang tags, an email will be sent to permit holders identifying methods of acquiring the credentials. This web page will also continue to be a resource for progress and project updates.
Once you have acquired your new hang tag, old transponders will be collected following the completion of the project. Because there is a battery in the unit, Parking will be recycling the collected units. An announcement will be made when and where that will happen.
The information on the reverse of the tag is a standard liability statement, indicating that the tag may act as a distraction while driving. If you find that the tag is not obstructing your view or making driving more difficult, you are encouraged to keep the tag wherever you see fit in the vehicle. Please note, the statement does not mean to remove the white strip on the back of the tag. That is the receiver and the gate will not activate if removed or damaged.
No. Permit and tag numbers are separate entities. In fact, the permit number will often change year over year while your tag number will remain the same.
Student permits are purchased and renewed online through the parking website (http://www.uwo.ca/parking/) starting August 29 @ 2pm. Hang tags will be available for pick up following confirmation from the Parking Office.
Yes. The hang tag will operate the gate arms from the interior of the vehicle - similar to the transponder. The only difference will be when using a Western ID card for access. In that case, the permit holder will need to roll down their window and touch the card to the kiosk
No. Because the project incorporates a large-scale transition between old and new hardware, there may be extended periods during business days when gates are left up. Parking enforcement will continue to operate as per usual, protecting permit holder rights.
Permit holders for accessible spots will continue to park in the same designated locations. As with other permit holders, a new hang tag will be issued to replace the transponder.
Yes. Pay-as-you-go is possible with the new system and is currently under review. If viable, pricing and options will be released following the project completion.
There are no current plans to change lot designations. The project scope focusses on enhancements to the gate hardware and associated software.
Yes. Attended booths will remain attended. The main difference being that visitors will pull a ticket from the kiosk prior to entering the lot and will pay the attendant or credit card machine upon exit of the lot.
Permit stickers will no longer be issued for registered vehicles (cars, trucks, etc). However, motorcyclists will continue to be issued a renewal sticker.
Upper Heating lot will be the subject of another modernization project next fiscal year. As a result, the gate is being removed from that lot this summer and not replaced. The old gates are not compatible with the new system, leading to the need to remove the gate hardware. The lot will remain dedicated to orange permit holders and will not impact those currently parking there.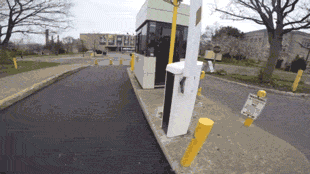 Project Progress
*Gate Activation* Activation requires the new hand tag for lot access. All lots have been activated except Huron Flats which will go live on September 6, following athletic events at TD Waterhouse Stadium.
*Database transfer* The parking database has moved. System are being phased back in resulting in a termporary service interruption to myAccount options including new permits, renewals and citation payments. PARKING PERMITS WILL BE AVAILABLE FOR PURCHASE ON AUGUST 29 @ 2pm, 2016.
*Hang tag distribution* Hang tags continue to be distributed. If you are a current permit holder and have not received your tag, please contact parkingupdate@uwo.ca
*Gate installs* is comlete. During the transition, the new gates will remain open until the new gates are install and the database is online. Parking will continue to enforce permit holder lots, as per usual.
*Civil work*  is complete.
Service Interruption
During gate installations, customers can expect delays which may be extended during the morning and afternoon commute. Please give yourself extra time. Gate installs begin in Early May.
Project Size:
Replace 43 parking gates in 19 locations and affiliated database system
Project Schedule
Total Duration: April - September 2016
Website Launch: April 4 *COMPLETE*
Civil Work (preparation): April 11 - July13 *COMPLETE*
Database transfer: Mid May June *COMPLETE*
Hang Tag Distribution (renewals): Mid May-Early August *COMPLETE*
Gate installation (main work): May-August *COMPLETE*
Project Location:
The project will modernize all parking lots across campus that are gated.
Stakeholder Engagement
April 7 - Focus Group - Representatives from staff and faculty groups across campus were engaged to discuss the project with the objectives of providing superior service throughout the project (and beyond).
April 8 - Permit Holder Email - Permit holders were notified of the civil work that will prepare the gated lots for modernization.
April 20 - Employee Groups - Representatives from the employee groups across campus were engaged to discuss the project.
April 27 - Permit Holder Email - Permit holders were notified of the complete scope of the project and timeline.
June 3 - Permit Holder Email - Current staff and faculty permit holders were notified of the distibution of the new hang tags.
June 8-15 - Hang Tag Distribution Road Show - Parking personnel travelled across campus to distribute hang tags to permit holders - Nearly 1,600 tags were handed out.
Aug 25 - Permit Purchase and Renewals - Permit purchases and renewals announced for the academic year.
Sept 26 - Permit Holder Email - Providing project progress and moving forward items. Key links include PDF guidelins on Access using WesternONECard and Approaching the Gates