Représentations passées
2012-2013
Dessine-moi un mouton !
Mise en scène par Mario Longtin
---
McManus Theatre: les 6, 7, 8 et 9 mars 2013 (mercredi, jeudi, vendredi, samedi)
---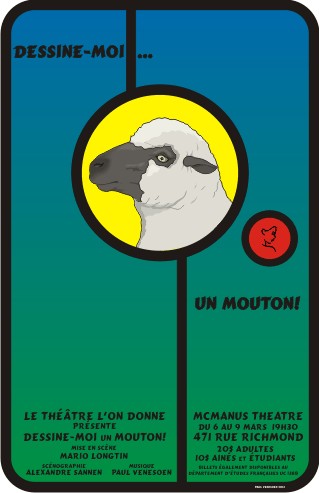 La troupe de théâtre francophone de l'Université Western Ontario présente un spectacle dont le titre évoque à dessein l'œuvre la plus connue de Saint-Exupéry. Notre collage explore ce qu'évoque le mouton pour l'homme. En nous servant de deux farces du Moyen Âge en version originale, auxquelles s'ajouteront trois tableaux empruntés à Mistero Buffo de Dario Fo dans la sublime traduction québécoise de Michel Tremblay, nous explorerons la naïveté, voire la stupidité du mouton, mais aussi sa pureté, sa blancheur, et sa condition d'animal sacrificiel qui l'associe à l'au-delà, sans oublier sa nature plus sombre de mouton noir. Derrière la figure du mouton se cache le rire, l'émotion, parfois même les larmes, mais surtout le printemps !
Le Théâtre l'On Donne, presents a play that brings to mind Saint-Exupéry's The Little Prince: "I was awakened by an odd little voice. It said, 'If you please - draw me a sheep!'" Through our collage, we explore the symbolism of the sheep or lamb as represented in two Medieval farces in their original language, and three one-act pieces written by Dario Fo, beautifully translated into Québécois by Michel Tremblay. Join us as we uncover the naïvety (or stupidity) of sheep, but also the purity and innocence of the lamb, and its unenviable position as the archetypal scapegoat. Black sheep, wolf in sheep's clothing, mutton dressed as lamb, lamb to the slaughter: this classic figure evokes not only laughter and tears, but also, the coming spring!