Useful Information
---
---
Undergraduate Course Offerings
Browse our Fall/Winter course offerings.
---
Improve your French
French Tutoring Hours
French Conversation Group
Théâtre L'On Donne
Forum français
Practice your French online 
(Make sure your are NOT logged into OWL when you click on this link.)
---
Quick links

---
"Lectures au labyrinthe"
Rencontre avec Nicole Brossard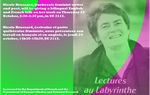 24 octobre 2019 à 14h30
University College, salle 2115
Evénement organisée en collaboration avec le département Women's Studies and Feminist Research.
---
Alice Munro Chair in Creativity
The Faculty of Arts and Humanities at Western University (The University of Western Ontario) invites applications or nominations for the Alice Munro Chair in Creativity. Click here for details.
---
What we offer
French is always an asset in the job market, and in life. Come and find out that Canada really is a bilingual country!
Il n'est pas trop tard pour poser votre dossier au Département d'études françaises.
Don't just be a tourist – get immersed!!  Scholarships are available for study in France and Quebec!