Useful Information
---
---
Intent to Register

Add a French Module to your degree:
---
French Summer courses
---
Fall/Winter 2021-2022
Browse our course offerings for the next academic year:
---
Centre d'aide en français

---
Quick links
News & Events
Présentation publique de thèse de doctorat:
Christelle Niguieu Toukam Epse Keupdjio, candidate au doctorat en études françaises, fera une présentation publique de sa thèse "La formation des questions Qu en ndà'ndà'".

Date: 15 mars 2021 à 10h.

Veuillez contacter Chrisanthi Ballas (french@uwo.ca) pour obtenir les coordonnées Zoom.
Cliquez ici pour plus de détails.
---
Prof. Servanne Woodward parle de ses recherches:

---
Nouvelle parution: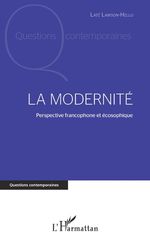 Laté Lawson-Hellu
La Modernité.
Perspective francophone et écosophique.
Paris, L'Harmattan, 2021
---
---
What we offer
French is always an asset in the job market, and in life. Come and find out that Canada really is a bilingual country!
Il n'est pas trop tard pour poser votre dossier au Département d'études françaises.
Don't just be a tourist – get immersed!!  Scholarships are available for study in France and Quebec!