Useful Information
---
---
Intent to Register
Add a French Module to your degree
---
French Summer courses
---
Undergraduate Course Offerings
Browse our Fall/Winter course offerings.
---
Improve your French
French Tutoring Hours
French Conversation Group
Théâtre L'On Donne
Forum français
Practice your French online 
(Make sure your are NOT logged into OWL when you click on this link.)
---
Quick links

---
En vedette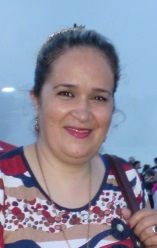 Hafida Bencherif est doctorante en troisième année au département des études françaises. Sa thèse porte sur « la représentation littéraire de l'éros féminin -une étude psychocritique- dans les contes licencieux de Jean De La Fontaine ». Lire la suite.
---
Forum des étudiants: Session de présentation d'affiches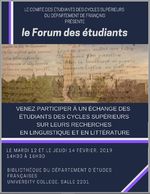 Le mardi 12 et jeudi 14 février, 2019
14h30 à 16h30
Bibliothèque du département
(University College salle 2201)
Venez nombreux!
---
Félicitations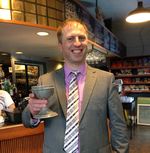 à Mikalai Kliashchuk, qui a soutenu avec brio sa thèse de doctorat le 11 février!
---
---
What we offer
French is always an asset in the job market, and in life. Come and find out that Canada really is a bilingual country!
Il n'est pas trop tard pour poser votre dossier au Département d'études françaises.
Don't just be a tourist – get immersed!!  Scholarships are available for study in France and Quebec!