Maxwell J. Smith, PhD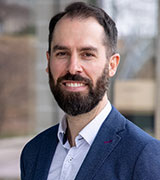 Assistant Professor
Room 331, HSB
519 661-2111 x88589
maxwell.smith@uwo.ca
@maxwellsmith
LinkedIn
Google Scholar
ORCID:
0000-0001-5230-0548
MaxwellSmith.ca
Education
Banting Postdoctoral Fellowship (McGill University)
PhD (University of Toronto)
MSc (Union Graduate College & the Ichan School of Medicine at Mount Sinai)
BA (Hons.) (University of Toronto)
Certificate in Health Law (Osgoode Hall Law School, York University)
Graduate Program Supervision
Research In Profile
Professor Smith's programme of research is in the area of public health ethics—a sub-field of bioethics—which seeks to examine the ethical dimensions of public health policy and practice. His research in this domain involves the critical investigation of how ethical considerations, ethical issues, and ethical reasoning are, and ought to be, approached and addressed in public health policy, practice, and research. Within this programme, professor Smith's research falls into the following areas:
Infectious disease ethics, namely, how to think about and integrate ethics into public health emergency preparedness and response
Health equity and social justice, namely, investigating the ethical dimensions of these 'core values' and how they ought to be operationalized in public health, health care, and health policy
In addition to these two areas that capture the principal foci of professor Smith's programme of research, his research regularly investigates a number of other emerging issues in public health ethics and bioethics, including in the areas of organ donation, termination of pregnancy, health care decision-making, and artificial intelligence..
World Health Organization (lead author). (2022). COVID-19 and Mandatory Vaccination: Ethical Considerations (May 2022 revised version). Geneva: World Health Organization.
Emanuel EJ, Persad G, Upshur R, Thomé B, Parker M, Glickman A, Zhang C, Boyle C, Smith MJ, Phillips JP. (2020). Fair Allocation of Scarce Medical Resources in the Time of Covid-19. New England Journal of Medicine, 382(21): 2049-2055.
Smith MJ. (2022). Evaluating Potential Unintended Consequences of COVID-19 Vaccine Mandates and Passports. BMJ Global Health, 7: e009759.
Smith MJ. (2021). Why We Should Not 'Just Use Age' for COVID-19 Vaccine Prioritisation. Journal of Medical Ethics, 48(8):538-541.
Smith MJ, Upshur REG. (2019). Pandemic Disease, Public Health, and Ethics. In Oxford Handbook of Public Health Ethics, ed. Mastroianni AC, Kahn JP, Kass NE. New York, NY: Oxford University Press.
Smith MJ. (2022). Social Justice and Public Health. In Routledge Handbook of Philosophy of Public Health (pgs. 333-346), ed. Venkatapuram S, Broadbent A. Routledge.
Smith MJ, Thompson A, Upshur REG. (2018). Is 'Health Equity' Bad for Our Health? A Qualitative Empirical Ethics Study of Public Health Policy-Makers' Perspectives. Canadian Journal of Public Health, 109(5): 633-642.
Visit Google Scholar for a comprehensive list of publications.
Smith MJ, Upshur R, Ahmad A, Bah Sow O, da Costa Thomé B, Dawson A, Iliyasu Z, Lei R, Silva D, Voo TC. "Ethical Pathways for Therapeutics and Vaccine R&D in the Context of Public Health Emergencies of International Concern: An Analysis of the 2013-16 Ebola Outbreak to Rapidly Inform COVID-19 R&D". Canadian Institutes of Health Research.

Smith MJ, Smith B, King N, Harper S, Rosella L, Siddiqi A, Viens AM, Quiñonez CR, Ndumbe-Eyoh S. "Establishing a Relationship Between Philosophy and Epidemiological Research and Practice: Modelling Ethical Standards of Health Equity (MESHE)". Canadian Institutes of Health Research.

Gold IJ, Goldenberg MJ, Perez-Gay Juarez F, Smith MJ, Vang Z, Weinstock DM. "Reducing COVID-19 Vaccine Hesitancy in Canadian Immigrants". Canadian Institutes of Health Research.
I am accepting master's and doctoral students with an interest and background in bioethics. Of particular interest are students seeking to pursue research in public health ethics, infectious disease ethics, and the ethical dimensions of pursuing health equity and social justice in public health and health care.
Contact: maxwell.smith@uwo.ca
Additional Information
Cross Appointment - Department of Philosophy, Western University
Cross Appointment – Department of Epidemiology and Biostatistics, Western University
Cross Appointment – Schulich Interfaculty Program in Public Health, Western University
Assistant Professor (status) - Division of Clinical Public Health & Joint Centre for Bioethics, University of Toronto
Associate Director, Rotman Institute of Philosophy
Associate Director, Health Ethics, Law, & Policy (HELP) Lab
Faculty, Institute for Earth and Space Exploration
Member, Centre for Research on Health Equity and Social Inclusion (CRHESI)
Faculty, Global Health Equity Hub
Faculty, Complex Adaptive Systems Lab
Canadian Association of University Teachers and Harry Crowe Foundation Olivieri Lectureship on Medical Ethics (2021)
Member and Rapporteur, World Health Organization COVID-19 Ethics and Governance Working Group
Member, Public Health Agency of Canada Public Health Ethics Consultative Group
Member, Advisory Committee for the Annual Report of Ontario's Chief Medical Officer of Health
Consulting Ethicist, Health Ethics Alliance, Sunnybrook Health Sciences Centre
Member, Canadian Institutes of Health Research College of Reviewers