Jacob Shelley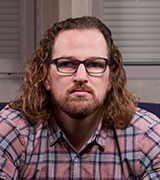 Assistant Professor
Room 21, LB
519 661-2111 x80043
jshelle6@uwo.ca
Education
LLB, LLM (University of Alberta)
MTS (Conrad Grebel University College)
Academic Appointments
Faculty of Law
Schulich Interfaculty Program in Public Health
Supervising Graduate Students
Research Interests
Proper limits and role of law in promoting public health and preventing chronic disease
Issues that arise at the interface of law, health science, and ethics
Additional Information
JJ Shelley, M Clark & T Caulfield, "The Face of Chiropractic: Evidence Based?" (2015) 20(1) Focus on Alternative and Complimentary Therapies 13-22.
JJ Shelley, "Addressing the Policy Cacophony does not Require More Evidence: An Argument for Reframing Obesity as Caloric Overconsumption" (2012) 12 BMC Public Health 1042.
JJ Shelley, "The Crown's Right of Recovery Act" (2010) 18:3 Health Law Review 15-23.
T Caulfield, V Alfonso & JJ Shelley, "Deterministic?: Newspaper Representations of Obesity and Genetics" (2009) 1 The Open Obesity Journal 38-40.
T Caulfield, JJ Shelley, T Bubela & L Minaker, "Framing Nutrigenomics for Individual and Public Health: Public Representations of an Emerging Field" in D Castle & N Ries, eds, Nutrition and Genomics: Issues of Ethics, Law, Regulation & Communication (New York: Elsevier, 2009) 223-244.
T Caulfield, JJ Shelley, V Alfonso & T Bubela, "Nutrigenomics and the Promise of Prevention: Representations and Realities" (2008) Special Edition Health Law Journal 41-65.