Elysée Nouvet, PhD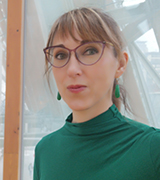 Assistant Professor
Room 215, HSB
519 661-2111 x82217
enouvet@uwo.ca
Education and Training
Postdoctoral Fellowship (McMaster)
PhD (York)
MA (Concordia)
MA (Goldsmiths College; University of London) 
Academic Appointments
McMaster University: Department of Health Evidence, Methods, and Impact
Supervising Graduate Students
Research Interests
Global Health and Global Health Research: Perceptions, power, ethics
Humanitarian healthcare
Social determinants, responses to, and impacts of suffering
Pain and palliative care across cultures
Best practices in research with marginalized populations
Additional Information
Powell R A; L Schwartz; E Nouvet; B Sutton; M Petrova; J Marston; D Munday; L Radbruch. Providing palliative care in humanitarian crises: Always something to offer. The Lancet. 389(178):1498-9. (2017)
Nouvet E; E Chan; L Schwartz. "Looking good but doing harm? Nicaraguan perceptions of short term medical missions." Global Public Health. DOI 10.1080/17441692.2016.1220610. (2016)
C Loignon, E Nouvet, L Benhadj, R Fowler, S. Murthy, N Adhikari, F Lamontagne. Delivery of supportive care during an Ebola outbreak: defining minimal requirements and identifying barriers and facilitators towards creating international guidelines. Longueuil: Université de Sherbrooke, Faculty of Medicine and Health Sciences. (2016)
Nouvet E. "Extraordinary aid and its shadow: The significance of gratitude in Nicaraguan humanitarian healthcare." Critique of Anthropology, 36(3) 1-20. 

(

2016)

Sinding C, C Graham, E Nouvet, J Vengris. "Personal stories, public voices: performance for public making." InTensions Fall/Winter 8 1-34.

 

http://www.yorku.ca/intent/issue8/notefromtheeditors/notefromtheeditors.pdf 

(

2016)

Nouvet E, P Strachan, J Kryworuchko, J Downar, JJ You. "Waiting for the Body to Fail: Limits of End-of-Life Communication in Canadian Hospitals." Mortality. Vol. 21 (4): 1-17. 

(

2016)

Nouvet E, C Abu-Sada, S DeLaat, C Wang, L Schwartz. "Opportunities and challenges of perceptions studies for humanitarian contexts." Canadian Journal of Development Studies. 37(3): 358-377. 

(

2016)

Kryworuchko, J, P Strachan, E Nouvet, J Downar, JJ You. "Factors influencing Communication And Decision Making About Life-Sustaining Technology during Serious Illness: A Qualitative Study". BMJ Open 6(5):1-11. 

(

2016)

Nouvet E, T Murthy, L Schwartz. "Under Pressure to Act: Determining patient's best interest in an emergency." Royal College of Physicians and Surgeons of Canada. Bioethics case studies. (2015) 
Nouvet E, Chan E, Schwartz L. BPREP: Beneficiary Perspectives Regarding the Ethical Performance of Humanitarian Healthcare Missions in Nicaragua. Humanitarian Healthcare Ethics Research Group (HHERG). ISBN: 9780993835421. (2015)
Nouvet E, Chan E, Schwartz L. Perspectivas Nicaragüenses sobre el desempeño ético de las brigadas de atención médica humanitarian en Nicaragua: El studio 'BPREP' Nicaragüense. Humanitarian Healthcare Ethics Research Group (HHERG). ISBN: 9780993835438. (2015)
Nouvet E, M Baxter, L Schwartz. "Module 8.2: The Therapeutic Misconception." Ethics in Epidemics, Emergencies, and Disasters: Research, Surveillance, and Patient Care Training Manual. Geneva: World Health Organization. 

(

2015)

You J J, J Downar, R A Fowler, F Lamontagne, I W Y Ma, D Jayaramn, J Kryworuchko, P H Strachan, R Ilan, A P Nijjar, J Neary, J Shik, K Brazil, A Patel, K Wiebe, M Albert, A Palepu, E Nouvet, A Roze des Ordons, N Sharma, A Abdul Razzak, X Jiang, A Day, D K Heyland. "Barriers to goals of care discussions with seriously ill hospitalized patients and their families: a multi-center survey of healthcare providers on behalf of the Canadian Researchers at the End of Life Network (CARENET)" JAMA Intern Med. Feb 2, 2015.
Nouvet E. "Some Carry On, Some Stay in Bed: (In)convenient affects and agency in neoliberal Nicaragua." Cultural Anthropology. 29(1):80-102. 

(

2014)

Hunt M, Schwartz L, Pringle J, Boulanger R, Nouvet E. "A research agenda for humanitarian health ethics." PLOS Currents Disasters. 

(

2014)
Elysée Nouvet is a medical anthropologist whose work is united by commitment to bringing the lived experiences of those on the receiving end of initiatives developed in the name of health equity and humanity to bear on understandings and assessments of the value, limits, and impacts of those initiatives.
Her doctoral work (2011, York University) focused on the social determinants, expression, and impacts of pain and distress in a Nicaraguan shanty. Since then, she has developed and co-led research on perceptions and moral experiences of short-term medical missions in Central America, end-of-life care in Canadian hospitals, clinical trials during the West-Africa ebola epidemic, and palliative care in disasters and public health emergencies. She is also co-investigator in an arts-informed project exploring, in collaboration with a number of community groups public performances of need and care in Hamilton, Ontario.
Her current program of research is funded by the Wellcome Trust/Save the Children/DFID R2HC (Research for Health in Humanitarian Crises) program and the Social Sciences Research Council of Canada (Project grant and Partnership Development Grants).
Global health: ethics, politics, practice
Mental health: critical social and cross-cultural perspectives
Social determinants of health