Elysée Nouvet, PhD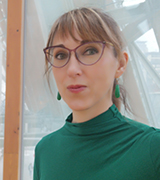 Associate Professor
Room 215, HSB
519 661-2111 x82217
enouvet@uwo.ca
Education and Training
Postdoctoral Fellowship (McMaster)
PhD (York)
MA (Concordia)
MA (Goldsmiths College; University of London) 
Academic Appointments
McMaster University: Department of Health Evidence, Methods, and Impact
Supervising Graduate Students
Research Interests
Global Health and Global Health Research: Perceptions, power, ethics
Humanitarian healthcare
Social determinants, responses to, and impacts of suffering
Pain and palliative care across cultures
Best practices in research with marginalized populations
Drones for health
Additional Information
Wallace, L.J., Nouvet, E., Bortolussi, R. et al. COVID-19 in sub-Saharan Africa: impacts on vulnerable populations and sustaining home-grown solutions. Can J Public Health (2020). https://doi.org/10.17269/s41997-020-00399-y
Jeyabalan, V.; Nouvet, E.; Meier, P.; Donelle, L. Context-Specific Challenges, Opportunities, and Ethics of Drones for Healthcare Delivery in the Eyes of Program Managers and Field Staff: A Multi-Site Qualitative Study. Drones 2020, 4, 44.
https://doi.org/10.3390/drones4030044
Hiebert B, E Nouvet, V Jeyabalan, L Donelle. The Application of Drones in Healthcare and Health-Related Services in North America: A Scoping Review. Drones. 4, 0030. doi:10.3390/drones403003
Nouvet E, Knoblauch AM, Passe I, Andriamiadanarivo A, Ravelona M, Ramtariharisoa FA, Razafimdriana K, Wright P, McKinney J, Small P, Rakotosamimanana N, Grandjean Lapierre P."Perceptions of drones, digital adherence monitoring technologies and educational videos for tuberculosis control in remote Madagascar: a mixed-method study protocol." BMJ Open 2019, 9:e028073. doi: 10.1136/bmjopen-2018-028073. DOI: https://bmjopen.bmj.com/content/9/5/e028073
Escobia F, Nouvet E. Ebola virus disease and and comes to palliative care in humanitarian crises. The Lancet. 2019, 393(101076):1100.

DOI:

https://doi.org/10.1016/S0140-6736(19)30295-8

.

Gailits N, Maathias K, Nouvet E, Pillai P, Schwartz L. Women's Freedom of Movement and Participation in Psychosocial Support Groups: Qualitative Study in Northern India. BMC Public Health 2019, 19(725): 1-13. https://doi.org/10.1186/s12889-019-7019-3
Nouvet E; Sinding C; Graham C; Vengris J A Fudge Schormans; A Fullwood; M Skeene. "What are you (un)doing with that story?" Qualitative Social Work: 2019, 18(3):514-529. DOI: 10.1177/1473325017735884.
Battista MC, Loignon C, Benhadj L, Nouvet E, Murthy S, Fowler R, Adhikari NKJ, Haj-Moustafa, A, Salam AP, Chan A, Mishra S, Couturier F, Hudon C, Horby P, Bedell R, Rekart M, Hajek J, Lamontagne F. Priorities, barriers and facilitators towards international guidelines for the delivery of supportive clinical care during an Ebola outbreak - a cross-sectional survey. Viruses 2019, 11(2), 194 doi.org/10.3390/v11020194
Loignon C; Nouvet E; Couturier F; Benhadj L; Adhikari NKJ; Murthy S; Fowler RA; Lamontagne F. Barriers to supportive care during the Ebola virus disease outbreak in West Africa: Results of a qualitative study. PLOS ONE 2018, 13(9): e0201091. 
Nouvet E; Sivaram M; Bezanson K; Krishnaraj G; Hunt M; DeLaat S; Sanger S; Banfield L; Escobio F; Schwartz L. Palliative Care in Humanitarian Crises: A review of the literature. Journal of International Humanitarian Action. 2018, 3:5. doi.org/10.1186/s41018-018-0033-8.
Nouvet E; E Chan; L Schwartz. Looking good but doing harm? Nicaraguan perceptions of short term medical missions. Global Public Health. 2018, 13(4): 456-472. DOI 10.1080/17441692.2016.1220610.
Strachan PH, Kryworuchko J, Nouvet E, Downar J, You JJ. Canadian hospital nurses' roles in communication and decision-making about goals of care: An interpretive description of critical incidents Applied Journal of Nursing Research 2018, 40: 26-33.DOI 10.1016/j.apnr.2017.12.014.
Hunt M, Chénier A, Bezanson K, Nouvet E, Bernard C, De Laat S, Krishnaraj S, Schwartz L. Moral experiences of humanitarian health professionals caring for patients who are dying or likely to die in a humanitarian crisis. Journal of International Humanitarian Action.2018, 3:12. doi.org/10.1186/s41018-018-0040-9
Powell R A; L Schwartz; E Nouvet; B Sutton; M Petrova; J Marston; D Munday; L Radbruch. Providing palliative care in humanitarian crises: Always something to offer. The Lancet. 2017, 389(178):1498-9.
Nouvet E. Extraordinary aid and its shadow: The significance of gratitude in Nicaraguan humanitarian healthcare. Critique of Anthropology, 2016, 36(3) 1-20.
Sinding C, C Graham, E Nouvet, J Vengris. Personal stories, public voices: performance for public making. InTensions Fall/Winter 2016, 8 1-34.
Nouvet E, P Strachan, J Kryworuchko, J Downar, JJ You. "Waiting for the Body to Fail: Limits of End-of-Life Communication in Canadian Hospitals." Mortality. 2016, Vol. 21 (4): 1-17.
Nouvet E, C Abu-Sada, S DeLaat, C Wang, L Schwartz. "Opportunities and challenges of perceptions studies for humanitarian contexts." Canadian Journal of Development Studies. 2016, 37(3): 358-377.
Kryworuchko, J, P Strachan, E Nouvet, J Downar, JJ You. "Factors influencing Communication And Decision Making About Life-Sustaining Technology during Serious Illness: A Qualitative Study". BMJ Open 2016, 6(5):1-11.
Nouvet E, Sinding C. "Tactics and Dissonance: Bending social relations towards justice through art. Note from the Editors." InTensions 2016, Fall/Winter 8 1-7.
Nouvet E, Jakamovic T. "Moral sentiments in 'Aidland': Special section introduction." Critique of Anthropology 2016, 36(3) 1-5.
Elysée Nouvet is a medical anthropologist whose work is united by commitment to bringing the lived experiences of those on the receiving end of initiatives developed in the name of health equity and humanity to bear on understandings and assessments of the value, limits, and impacts of those initiatives.
Her doctoral work (2011, York University) focused on the social determinants, expression, and impacts of pain and distress in a Nicaraguan shanty. Since then, she has developed and co-led research on perceptions and moral experiences of short-term medical missions in Central America, end-of-life care in Canadian hospitals, clinical trials during the West-Africa ebola epidemic, and palliative care in disasters and public health emergencies.
Dr. Nouvet is currently engaged in several research projects. Her primary program of research is funded by the Rapid Research Fund for Ebola Virus Disease Outbreaks initiative, funded by the International Development Research Center (IDRC), the Canadian Institutes of Health Research (CIHR), and the Social Sciences and Humanities Research Council. Her research within this initiative, "Strengthening the Ethics of Ebola Clinical Research with and for Limited Literacy Participants in Ebola Affected Countries", aims to support the ethical conduct of research in Ebola-affected countries and more specifically meaningful community engagement with limited literacy stakeholders approached for clinical trials in the context of public health emergencies. This is a participatory project that involves close collaboration with the Health Research Ethics Committee of Guinea, ALIMA, Pandora ID-Net, the Biomedical Research Institute of the Democratic Republic of Congo, the Sierra Leone Association of Ebola Survivors (SLAES), the Kikwit Ebola Survivors Association, and the Network of Ebola Survivors' Association of Guinea (RENASEG). The series of 'tools' being produced through this project will be available open-access beginning in autumn 2020.
Since her appointment at Western, Dr Nouvet also has been funded by the Wellcome Trust/Save the Children/DFID R2HC (Research for Health in Humanitarian Crises) program and the Social Sciences Research Council of Canada (Project grant and Partnership Development Grants), and she currently is PI on a CIHR ethics project entitled "Beyond Ideals: Consent and Compensation in Global Health Research."


Global health: ethics, politics, practice
Mental health: critical social and cross-cultural perspectives
Social determinants of health