Learning in the Field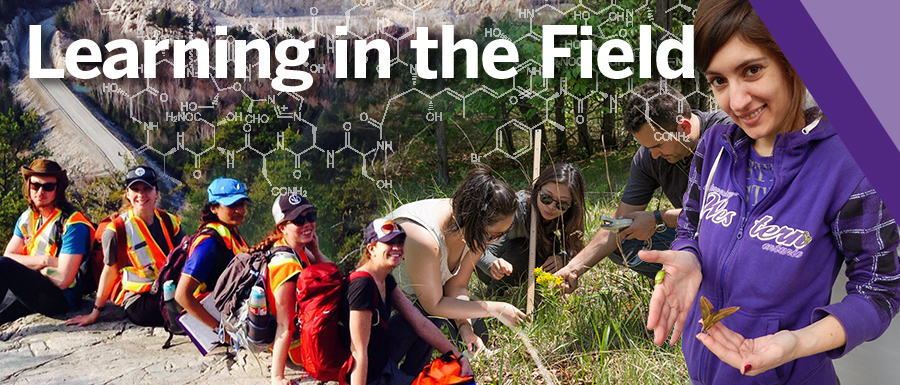 The Western Science Departments of Biology and Earth Sciences are widely known for exposing our students to hands-on and experiential learning in field locations across five continents, with the latter department offering more undergraduate field courses than any other similar department in Canada. From impact craters in Utah to the rainforests in Costa Rica, students learn in authentic and sometimes exotic contexts, equipped with relevant tools and learning techniques and are mentored in a small group setting, in best practices in field exploration.
Adirondack Park is one of the largest protected areas in North America filled with diverse flora and fauna belonging to the alpine, boreal, upland, lowland, and aquatic communities. During their time hiking through the mountainous topography students explore the ecosystems of the Adirondack's and become experts in the identification of various birds, mammals, and trees.
For students who wish to understand marine biology, they need not look further than the world's largest tides and the diverse invertebrate and macroalgal communities that make their home at the Bay of Fundy in New Brunswick. Here students study marine birds, mammals, and fish as they learn important oceanographic field techniques and the impact that human activities have had on this magnificent ecosystem.
Field Geology and Geography of Southwest Ontario explores Western Science's home through the lens of history and patterns in its geology, physical landscape, and resources. Students gain a breadth of skills including field orientation, air photo interpretation, soil identification, and basic water quality techniques while learning about the history of the place that they will call home during their undergraduate careers.
Students travel to the Calabogie and Admaston areas south and east of Ottawa to get first-hand experience operating geophysical instrumentation, designing and carrying out geophysical surveys to meet industry needs in mineral exploration, environmental engineering and petroleum exploration, and to communicate the results of the surveys through professionally written reports and presentations.
The Earth Sciences is by no means bound by the borders of Canada so to provide a global understanding of the processes that shape the Earth's crust, Western Science offers an international geoscience experience. Students have visited ore deposits in Finland, explored volcanos in the Dominican Republic, gone meteorite hunting in Oman, and examined impact structures in South Africa.
Situated proximal to the ancient Canadian Shield, Western Science is able to provide one of the best geologic field schools in Canada, providing students with the necessary skills required for a career in the geosciences. Students spend a week mapping the thick rock units situated next to Lake Huron, taking day trips to the Manitoulin Island and the Sudbury area to explore a Ni and Cu deposit that formed after a large meteorite impact approximately 1.85 billion years ago.
Human exploration of planetary bodies has proven time and again to be a difficult and risky endeavor, however, planetary scientists are able to study the processes that occurred on bodies such as Mars and the Moon by comparing them to analogues here on Earth. This 10-day field trip to Arizona and Utah brings students up close to massive volcanos, down into the depths of the Grand Canyon, and even underground to the surreal surroundings of dark lava tubes which envelope them throughout the learning experience.
While picturesque and peaceful now, Nova Scotia and New Brunswick have undergone some of the most catastrophic volcanism and tectonism that can occur on Earth, the opening of an ocean. This geological trip to the Maritimes provides observational and hands-on experience mapping, followed by local and 'big-picture' interpretations of the geologic area.
Travel to Quito, Ecuador to uncover the majestic and huge biodiversity of rainforest ecosystems. Students interact with primates, spectacular insects and arachnids, an incredible diversity of birds, and enormous orchids, palm trees, and other flora. Students get hands-on experience with neotropical biodiversity, ecology, and forest conservation issues while they hike the Amazonian cloud forest.
Based on a remote 40-acre tropical island, 90 km offshore of the Belize mainland, within the Half Moon Caye Marine Reserve, you will be immersed in the diversity of habitats at Belize's most spectacular coral reefs — Lighthouse Reef. You will spend your time exploring by kayak and snorkeling the underwater habitats, documenting, and working towards a final research project on the data you collect in the field.