Mikko Karttunen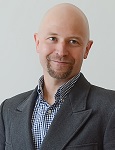 Contact Information
Title: Professor
Office: ChB 072
Phone (Office): ext 86335
E-mail: mkarttu@uwo.ca
Physical & Analytical Teaching Division
Computational chemistry & biological physics, Multiscale simulation methods, QM/MM and coarse-graining Lattice Boltzmann methods, Polymers, Intrinsically disordered proteins, Lipid membranes and peptides
Education
MSc: Tampere University of Technology, Finland; PhD: McGill University; Postdoc: Max Planck Institute for Polymer Research, Germany
AWARDS
Ontario Early Reseachers Award
NSERC Discovery Accelerator
EU DEISA Extreme Computing
Distinguished Research Professor
RESEARCH
My research focuses on the properties of biological & soft matter using theory and the methods of computational chemistry and physics. Typical systems are at the interface between materials science, biology & biomedical sciences. I am interested in problems such as lipid diffusion, sterols, bacterial toxins, membrane proteins, antibiotics, translocation of DNA, peptides and sugars. I am also working on magnetic materials, pattern formation and non-equilibrium dynamics.
Movies and visualizations at our Flickr site.
TEACHING
Computational modeling
Statistical mechanics
Quantum mechanics
SELECTED PUBLICATIONS
Stable Porphyrin-Phospholipid Doped Liposomes Permeabilized by Near Infrared Light , K. Carter, S. Shao, Matthew I. Hoopes, W. Song, H. Huang, G. Zhang, B. Asan, R.K. Pandey, B.A Pfeifer, J. Ortega, Mikko Karttunen, J.F Lovell, Nature Communications 5, 3546 (2014).