Patrick O'Donoghue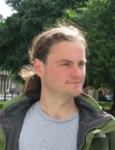 Contact Information
Title: Canada Research Chair in Chemical Biology; Associate Professor of Chemistry and Biochemistry
Office: Rm 388 MSB
Phone (Office): (519) 850-2373
E-mail: patrick.odonoghue@uwo.ca
Education
Ph.D., University of Illinois at Urbana-Champaign; Postdoctoral Fellow, Yale University
AWARDS
Canada Research Chair (Tier 2) in Chemical Biology (2013 – 2019; renewed 2019-2024)
National Science Foundation Postdoctoral Fellowship in Biological Informatics
PhRMA Foundation Postdoctoral Fellowship in Informatics
Institute for Genomic Biology Postdoctoral Fellowship, University of Illinois
RESEARCH
The O'Donoghue lab investigates how proteome diversity, generated by either protein modification or mistranslation, impacts pathways to cancer and neurodegeneration.

Proteins involved in major human diseases undergo significant post-translational modification. Protein modifications relay chemical signals to alter cell fate and gene expression. My lab established a leadership role in the area of genetic code expansion to investigate the role of disease-linked protein modifications. The lab engineers new methods to produce proteins with programmed modifications and elucidates their role in signaling pathways linked to disease. Recent breakthroughs in the lab enable programmed protein modification in human cells.

We recently developed novel fluorescent reporters to visualize errors in proteins synthesis or mistranslation in live cells. The lab is now leading efforts to reveal the ability of naturally occurring transfer RNA (tRNA) mutants to induce proteome-wide mistranslation in models of neurodegenerative disease.
TEACHING
Biochemistry/Chemistry 4415b - Applications of Synthetic Biology & Chemical Genetics in Medicine
Biochemistry/Chemistry 9703 - Chemical Biology
SELECTED RECENT PUBLICATIONS
J. Lant, M. Berg, I. U. Heinemann, C. Brandl, & P. O'Donoghue† (2019) Pathways to disease from natural variations in human tRNA genes. J Biol Chem. 294: 5294-5308.


N. Balasuriya*, M. Kunkel*, X. Liu, K. Biggar, S. Li, A. Newton†, & P. O'Donoghue† (2018) Genetic code expansion and live cell imaging reveal that Thr308 phosphorylation is irreplaceable and sufficient for Akt1 activity. J Biol Chem. 293: 10744-10756.


D. E. Wright, Z. Altaany, Y. Bi, Z. Aplerstein, & P. O'Donoghue†. (2018) Acetylation regulates thioredoxin reductase oligomerization and activity. Antioxidants & Redox Signaling. 29: 377-388. Front cover feature.


M. D. Berg†, K. S. Hoffman, J. Genereaux, S. Mian, R. S. Trussler, D. B. Haniford, P. O'Donoghue & C. Brandl†. (2017) Evolving mistranslating tRNAs through a phenotypically ambivalent intermediate in Saccharomyces cerevisiae. Genetics. 206: 1865-18792. Featured in Genetics Society of America E-news (8/16/17); B. Starr 'New & Noteworthy' article feature at Saccharomyces Genome Database (3/8/17): https://www.yeastgenome.org/blog/that-sweet-spot-of-mistranslation.


K. Hoffman, M. Berg, B. Shilton, C. Brandl†, & P. O'Donoghue†. (2017) Genetic selection for mistranslation rescues a defective co-chaperone in yeast. Nucleic Acids Research. 45: 3407–3421.