Paul Venesoen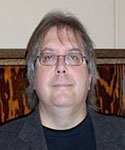 Téléphone:
519-661-2111 ext 81525
Bureau:
University College, room 2124
Courriel: pvenesoe@uwo.ca
---
Formation et domaines de spécialisation
MA, University of Western Ontario (1986)
DipEd, McGill University (1983)
Français langue seconde et langue étrangère, civilisations et cultures francophones, applications pédagogiques de l'ordinateur et du multimédia
Work in progress:
Textbook: Commencer et Continuer : A modern approach to French Language Acquisition. 
Articles published:
"Montaigne et l'Égalité des hommes et des femmes" . Dalhousie French Studies , 22, Spring-Summer 1992, p. 1-8.
 "An Assessment of Critical Thought on Male Misogyny: the Case of Pierre Charron Confronted with Women and Marriage" . PFSCL XX, 39, 1993, p. 489-498.