Jeff Tennant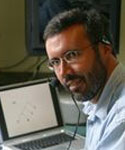 Téléphone:
519-661-2111 ext 87885
Bureau:
University College, room 3126
Courriel: jtennant@uwo.ca
---
BIOGRAPHY
Jeff Tennant is an Associate Professor in the Department of French Studies at Western, specializing in phonetics and sociolinguistics. He is the former editor of the Canadian Journal of Applied Linguistics, and his current research focuses primarily on Ontario French and the French of Anglophone learners of French as a second language, with specific interest in prosodic and segmental variation in these native and learner varities. Since 2009, he has been a collaborator in the international PFC project (Phonologie du Français Contemporain: www.projet-pfc.net) and since 2010, in the IPFC project (Interphonologie du Français Contemporain: cblle.tufs.ac.jp/ipfc). He is currently working on research, related to PFC, funded by a SSHRC Insight Grant, entitled Language Contact and Prosodic Variation in Ontario French.  In 2015, he was awarded the distinction of Chevalier dans l'Ordre des Palmes Académiques by the Government of France. He is currently Chief Negotiator for the University of Western Ontario Faculty Association (UWOFA).
TRAINING AND AREAS OF SPECIALIZATION:
B.A., M.A., Ph.D. (Toronto)
Sociolinguistics, Phonetics, Laurentian French, Second Language Learning and Teaching
RECENT PUBLICATIONS:
Tennant, J. (to appear): Pierre Léon et la variation. In Galazzi, E. & Santone, L. (Eds.), Actes du colloque Au prisme de la voix: hommage à Pierre Léon, numéro spécial de Repères-Dorif.
Tennant, J. (to appear). Ontario. In U. Reutner (Ed.), Manuel des francophonies : Situation sociolinguistique, aménagement linguistique et particularités du français. Manuals of Romance Linguistics, Mouton de Gruyter.
Tennant, J. 2016. Les Anglophones. In S. Detey, I. Racine, Y. Kawaguchi & J. Eychenne (Eds.). La prononciation du français dans le monde: du natif à l'apprenant, 97-102. Paris: Clé International.
Kaminskaïa, S., Tennant, J., & Russell, A. 2016. Prosodic rhythm in Ontario French. Journal of French Language Studies 26: 183–208.
Tennant, J., & Poiré, F. 2016. French in Ontario: A speaker from Hearst. In S. Detey, J. Durand, B. Laks & C. Lyche (Eds.), Varieties of Spoken French: A Source Book, 290–299. Oxford: Oxford University Press.
Tennant, J. 2015. Canadian anglophone learners' realization of French liaison. Bulletin suisse de linguistique appliquée 102: 65–85.
Kaminskaia, S., J. Tennant and A. Russell. 2013. Approaches to analyzing prosodic rhythm in language contact: French in Ontario. In A. Barysevich, A. D'Arcy, & D. Heap, (Eds.), Proceedings of Methods XIV: Papers from the Fourteenth International Conference on Methods in Dialectology, 2011, 3–14. Frankfurt: Peter Lang.
Tennant, J. 2013. Application de l'indice PVI à l'analyse du rythme en français ontarien : observations préliminaires. In G. Ledegen & J.-P. Watbled (Eds.), La variation du français dans les espaces créolophones et francophones, 203–216. Paris: L'Harmattan.
Poiré, F. & J. Tennant. 2013. Adaptation à l'accent hexagonal par une actrice québécoise : le cas des voyelles. in Falkert, Anika (dir.), La perception des accents du français hors de France. Actes du colloque d'Avignon, 17-18 novembre 2011, 129-149. Mons: Ed. du CIPA (coll. Parole).
Tennant, J. 2012. Laurentian French phonology in a majority setting outside Québec: Observations from the PFC Hearst Ontario study. In R. Gess, C. Lyche & T. Meisenburg (Eds.), Phonological Variation in French: Illustrations from Three Continents, 313–339. Amsterdam-Philadelphia: John Benjamins.
Tennant, J. 2011. Rythme prosodique et contact des langues dans le français ontarien. In F. Martineau, & T. Nadasdi (Eds.), Le français en contact : hommages à Raymond Mougeon, 355–373. Québec: Presses de l'Université Laval.
Chambers, J.K., S. Cummins and J. Tennant 2008. Louis Gauchat (1866-1942): Patriarch of Variationist Linguistics. Historiographia Linguistica, 35, 1/2, 213-274.