François Poiré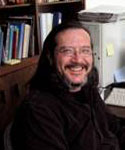 Téléphone:
519-661-2111 ext 85711
Bureau:
University College, room 3124
Courriel: fpoire@uwo.ca
---
Ph.D., Université du Québec à Montréal (1999)
Domaines de spécialisation
Linguistique française
Phonétique et sociophonétique
Phonology prosodique
Recherche en cours:
Phonétique du doublage en français
Fusion vocalique dans les groupes clitiques et entre les groupes accentuels
Propriétés acoustiques des éléments clitiques en français (avec Veranika Barysevich)
Publications:
Chapitres de livre
Poiré, F. 2019. Conversation à Belle-River'. Japanese translation- adaptation of Les variétés du français parlé  dans l'espace francophone, Ressources pour l'enseignement. 2010. Éditions Ophrys. Éd. Sylvain Detey, Jacques Durand, Bernard Laks, Chantal Lyche. Éditions Sanseido. Éd. Yuji Kawaguchi, Norie Yazu, Hisae Akihiro, Kaori Sugiyama.
Tennant, J. & F. Poiré. 2016. French in Ontario: A speaker from Hearst. in S. Detey, J. Durand, B. Laks & C. Lyche (eds). Varieties of Spoken French: A Source Book. Oxford: Oxford University Press.
Kaminskaïa, S, & F. Poiré. 2013. Prosodie du français laurentien en milieu minoritaire : le corpus Windsor. In Simon, A.C. (éd). La variation prosodique régionale en français. Bruxelles: De Boeck, coll. "Champs linguistiques".
Articles récents

Poiré, F. Le schwa comme marqueur stylistique dans un corpus de séries télévisées doublées au Québec et en France. proposé à Journal of French Language Studies.
Barysevich, V. & F. Poiré 2015. La réalisation accentuelle des mots de fonction dans différents styles de parole du français. Nouveaux Cahiers de Linguistique Française européen (Proceedings of SWIP 2014), Genève, Septembre.
Poiré, F.& J. Tennant. 2013. Adaptation à l'accent hexagonal par une actrice québécoise: le cas des voyelles'. In Falkert, A. (dir.), La perception des accents du français hors de France. Actes du colloque d'Avignon. 17-18 novembre 2011. Mons: Ed. du CIPA (coll. Parole). 129-149.
Kaminskaïa, S, K. Tsedryk, M. Kliashchuk, F. Poiré & James Porteous. 2014. Introduction : théories et applications. Ottawa Papers in Linguistics, Special Issue: Proceedings of the 16th Bilingual Workshop in Theoretical Linguistics, vol 39.