Henri Boyi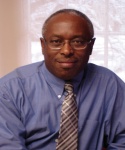 Téléphone:
519-661-2111 ext 87446
Bureau:
University College, room 2122
Courriel: hboyi@uwo.ca
---
Formation et domaines de spécialisation
MA, Cornell University (1992)
MA, University of Wisconsin-Madison (1984)
My main interest lies in French language teaching and learning in a multicultural and multilingual environment.  It is essential that any approaches of language pedagogy take into account that languages are an integral part of human development.  My own language pedagogy therefore always combine traditional and modern methods including the fact that integrative strategies aim at developing all skills that lead to the effective mastery of written and oral French.  Grammatical theories and practices, textual analysis, intellectual and cultural realms, as well as multimedia activities contribute to the creation of a classroom environment where language learning becomes a truly enjoyable experience.  At the beginning of my classes, students always hear the following words: "Let's all work hard and have fun!"
Publications
Selected articles in books and journals
"Intercolonialité, interculturalité et altérité", in Literary Research, ed. Calin Mihailescu (Winter 2005)
"Le paysan parvenu: une aventure ambigue".  Marivaux avec Michel Deguy.  Servanne Woodward, ed. . London: Mastengo Press, 2001.
"Sur les traces d'une literature engagée".  Literary Research.  Calin-André Mihailescu, ed.. Vol. 17, No. 34 (Automn-Winter, 2000).
"Alienation in Toni Morrison's The Bluest Eye and Bessie Head's A Quest of Power," in The Osaka Journal of African Studies, Kiyoto University, Japan, (Spring 1993)
"Dis love!" or Mislove: Gender and Marginality in Zora Neale Hurston's Their Eyes Were Watching God," in Image, University of Maryland, vol. 1, No 2 (Fall, 1992)
Book Reviews
 Bearing Witness: Readers, Writers, and the Novel in Nigeria.  Ed, Wendy Griswold.  Princeton: Princeton UP, 2000; 340 pp. In Literary Research, Vol. 17, No 34 (Automn-Winter, 2001).
Race Rules.  Ed. Michael E. Dyson. In Literary Research, No. 27 (Spring-Summer 1997) La Litterature Antillaise Francophone.  Ed. Regis Antoine.   In Literary Research.  No 26 (Spring-Summer 1996)
Creative Writing
 Two poems in Image: The Scholar's Release.  Vol. 3, No 1& 2, (Winter/Spring 1994)
Three poems in Umoja Sasa.  Cornell University, (Winter 1994)
"The Lover," in Hammers #8, Evanston: Double Star Press, 1993
"Gadeloupe Chérie," in African Literature Association Bulletin, Vol. 19, No 2, (Spring 1993)
"In Condolence," in Tears of Fire.  Ed. the National Library of Poetry.  Owings Mills, Ohio,1994 (Editor's Award)