Mark S. Workentin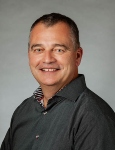 Contact Information
Title: Professor
Office: Rm 223 ChB
Lab: 203 ChB
Phone (Office): ext 86319
E-mail: mworkent@uwo.ca
Twitter: @WorkentinChem
Organic Teaching Division
Physical Organic Chemistry of Materials, Organic Materials Synthesis, Organic Photochemistry, Organic Electrochemistry
Education
Ph.D., McMaster University, 1992; B.Sc., Western Ontario, 1988
AWARDS
Edward G. Pleva Award for Excellence in Teaching
University Faculty Scholar
Fellow, Canadian Institute for Chemistry 
Premier's Research Excellence Award
Western Marilyn Robinson Award for Excellence in Teaching
Alumni Western, Bank of Nova Scotia, University Students' Council Award for Excellence in Undergraduate Teaching (1997-98, 2001-02, 2014-15)
Canadian National Congress-International Union Pure and Applied Chemistry (CNC-IUPAC) Award
Ontario Confederation of University Faculty Associations Award for Excellence in University Teaching
RESEARCH
Physical Organic Chemistry of Materials: From Probing Structure-Reactivity to Demonstrating Application 
The obsession over noble metal (Gold, Silver) nanoparticles predates modern science as they gave stained glass wonderful properties. Thousands of years later we find ourselves still obsessed, but today's researchers are focused on their controlled synthesis and understanding their structure and properties. The properties of gold/silver nanomaterials are determined mostly by their size that is controlled by the stabilizing ligands that surround the metal core. Modern efforts are aimed at designing new ligands for a desired application but synthesizing the nanoclusters often lead to changes in the size/properties.

The @WorkentinChem Group's goals is to approach new nanocluster synthesis by designing and synthesizing ligands for the preparation of nanoclusters that contain a prosthetic group capable of efficient, quantitative, clickable, chemical reactions post-nanocluster synthesis to deliver new function with the properties on the preset nanocluster core. Reactions of molecules in solution are supported by a well-developed set of methods from physical organic chemistry, but the reactions of molecules at the interface of nanomaterials are not as well understood. Our studies examine factors that control the surface reactivity and molecular interactions in these unique nanomaterials. Understanding these factors is essential for the rationale design and control of these nanomaterials and for incorporating them into other functional materials. Our systems can undergo specific thermal, photo-, or electrochemical reactions in the interfacial material environment and provide new platforms for selective surface modifications. The importance lies in the recognition of the utility of these types of functional materials in the development of value-added products in nano-medicines, bio-imaging, drug delivery, molecular electronics, sensors, catalysis and other applications.

The goals are built on these foundational themes: (1) to develop an interchangeable toolbox of interfacial reactions that can be used to functionalize noble metal nanocluster materials rapidly, selectively, quantitatively and under mild conditions. 2) to develop strategies to make our technology transferable to a variety of materials. 3) to exploit these reactions towards applications through effective collaboration within academia and industrial innovation contributors. 
To accomplish these goals, we also achieve our greatest impact on Canadian science, the training of diverse personnel who become the creative minds driving the future of Canadian science and innovation. These personnel master a broad spectrum of core chemical competencies in organic synthetic methods and analysis, inorganic and organic materials chemistry and the specialized techniques for their characterization as well as advanced skills in electrochemistry, photochemistry and materials chemistry. Trained HQP from my group have had a 100% professional placement over the last 18+ years.
TEACHING
1050 - Discovering Chemistry
2213 - Organic Chemistry for Life Sciences
2273 - Organic Chemistry I: Structure and Spectroscopy
3370 - Organic and Inorganic Structure and Elucidation
4483 - Elucidation of Organic and Bioorganic Mechanisms
4491 - Chemical Research Discovery and Scientific Communication
9555 - Photochemistry
9701 - Introduction to Nanomaterial Architectures
SELECTED PUBLICATIONS
Please visit Google Scholar for updates.
Controlling the Structure, Properties and Surface Reactivity of Clickable Azide-Functionalized Au25(SR)18 Nanocluster Platforms Through Regioisomeric Ligand Modifications P. N. Gunawardene, J. Martin, J. M. Wong, Z. Ding, J. F. Corrigan, M. S. Workentin, Angew. Chem. Int. Ed. 2022, 61, e202205194; Angew. Chem. 2022, 134, e202205194.
Golden Opportunity: A Clickable Azide-Functionalized [Au25(SR)18]− Nanocluster Platform for Interfacial Surface Modifications  Praveen N. Gunawardene, John F. Corrigan* and Mark S. Workentin*  J. Am. Chem. Soc. , 2019, 141, 30, 11781–11785.
Dual-Bioorthogonal Molecular Tool: "Click-to-Release" and "Double-Click" Reactivity on Small Molecules and Material Surfaces Wilson Luo, Johnny Luo, Vladimir V. Popik  and  Mark S. Workentin* Bioconjugate Chem. 2019, 30, 4, 1140–1149.
Strained alkyne polymers capable of SPAAC via ring-opening metathesis polymerization Rajeshwar Vasdev , Wilson Luo , Kyle Classen , Michael Anghel , Samantha Novoa , Mark S. Workentin * and Joe B. Gilroy  Polym. Chem., 2021, 12, 5542-5547.
Nitrone-Modified Gold Nanoparticles: Synthesis, Characterization, and Their Potential as 18F-Labeled Positron Emission Tomography Probes via I-SPANC S Ghiassian, L Yu, P Gobbo, A Nazemi, T Romagnoli, W Luo, LG Luyt, and MS Workentin ACS omega 4 (21), 19106-19115.
Colloidosomes as a Protocell Model: Engineering Life-Like Behaviour through Organic Chemistry J. H.Park, A. Galanti, I. Ayling, S. Rochat, M. S. Workentin, P. Gobb  Eur. J. Chem. 2022,e202200968.