Alumni


The history of alumni from the Department of Chemistry at Western began with its first Honor's degrees being awarded in 1924, nearly a century ago. This was followed quickly with the awarding of the first M.Sc. in 1927 and, subsequently, the first Ph.D. degree in 1953. Since that early period, over 4000 alumni have graduated with degrees in chemistry after a period of in-depth learning, the sharing of ideas, the development of professional relationships and personal friendships within the walls of the Department. Today, Chemistry alumni share their Western colours across the world. This website is for you: a place to visit and maintain contact with the Department, to read about fellow alumni and to see what events are being organized where there is an opportunity to reconnect.
Alumni Events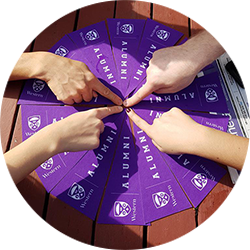 Western Chemistry alumni are invited to attend and participate in a variety of events throughout the year. For some events, organization and hosting is provided by Western Alumni, and others by the Faculty of Department.
Your experience at Western shouldn't come to an end after graduating so we invite you to celebrate research, outreach, education, and community with us and our broader communities. 
To stay up to date with any upcoming events, take a look at the events page for more information. Please also be sure to check out our chemistry events page for further opportunities to engage!
---
Alumni Spotlight: Samantha Anderson (BSc, '17)
When I began my degree at Western, I was enrolled in the Physics and Astronomy program, planning on specializing in astrophysics. However, I found the environment in the first-year chemistry course so warm and welcoming. The professors made time for me, the TA's were always helpful, and I felt a massive amount of support from my fellow peers. The following year, I enrolled in the Chemistry program and never looked back!
I am currently employed as a Research Chemist specializing in Microscopy at Imperial Oil in the Lubricant Technical Support Division for ExxonMobil. I work with engineers and companies experiencing issues with the finished products to determine the root causes of problems being experienced in the field and determine how the issue can be resolved. 
Western Chemistry helped me develop the skills and provided the guidance necessary to succeed in an industrial setting, and I will always be grateful for everything it gave to me!