About Us


The Department of Chemistry at Western University is one of the most research-intensive chemistry departments in Canada. We are ranked #4 in total NSERC funding and #2 in NSERC Partnership Funding in the nation. Our Department is home to 30 faculty, including 8 current or former Canada Research Chairs and NSERC Industrial Research Chairs. Our research areas cover a broad spectrum of chemical specialties in three research themes: Materials and Biomaterials, Computational Sciences, and Environmental Science and Ecology. Surface and Interfacial Materials Chemistry is also an area of strength that is expected to expand significantly expand over the next five years.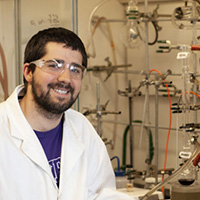 Research and teaching in the department, as well as equipment facilities including NMR and X-ray Spectroscopy, Mass Spectrometry, Glassblowing, and Electronics Shop, are supported by a team of over 20 excellent staff members. The Department also has strong ties to many national research institutes such as the Canadian Light Source, Agriculture and Agri-Food Canada, and Atomic Energy of Canada. We are also home to the Editorial Office of the Canadian Journal of Chemistry.
Graduate students are critical to our central mission of scholarship and research. There are more than 100 graduate students enrolled in either Chemistry or one of the joint programs with Environmental Science, Scientific Computing, and Materials Science. We offer both MSc and PhD degree programs and a guaranteed minimum funding of $26,000 per year. Besides providing stimulating research activities, our students have access to a wide range of graduate courses, an active seminar program, and numerous opportunities to develop teaching experience in undergraduate laboratories.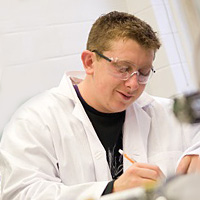 The Department of Chemistry at Western University values undergraduate education and the training of our students to become job-ready. In Chemistry, this means acquiring the essential knowledge and skills to competently perform in a laboratory-centric work environment. To deliver the knowledge, our undergraduate classes are taught by many teaching award-winning faculty members recognized at the university, provincial and national levels. Pedagogical development is also an important part of our mission, and we are currently implementing interactive and blended learning (online and in-class) in first-year general chemistry.
To nourish the development of hands-on laboratory skills, the program begins with the delivery of full biweekly labs to the over 2000 students in our first-year courses and continues with an additional 300 hours of laboratory exercises in second- and third-year chemistry courses. Finally, every student specializing in Chemistry has the opportunity to conduct a thesis research project with one of our faculty members. Students also have the option of participating in international exchanges with partner institutions and joining the Science Internship program to work in chemistry and related industries for 8- to 16-month work terms.
Our undergraduate students, graduate students, visiting scholars, staff, and faculty form a wonderful community and offer a great environment within which to grow personally and professionally.
We are pleased to answer any questions you may have as you explore the Department of Chemistry website, so reach out. We look forward to speaking with you.