Fred Pattison
This lecture series was endowed by the family of Fred L.M. Pattison, Head of the Department from 1959 to 1965.
About Fred Pattison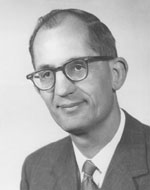 Fred was born in Scotland, where he received his early education before going to the University of Cambridge in 1941 for undergraduate work in Natural Sciences, followed by a Ph.D. in Organic Chemistry. He then spent a year at Dalhousie University as Lecturer before joining the faculty here at UWO as Assistant Professor in 1948. He established a Ph.D. program in the department, and his research on biologically active organic fluorine compounds resulted in many publications, the award of an Sc.D. by the University of Cambridge, and a book: Toxic Aliphatic Fluorine Compounds. In 1959 he became Professor and Head of the Department, and he presided over the expansion of the department and its move to new facilities.
In 1965, Fred decided on a complete career change, and at the age of 42, he enrolled at Western University as a first-year medical student. On completing his M.D. four years later, he interned at St. Joseph's Hospital here in London and served for a year as a resident in the Family Practice Program; he also took a diploma course in venereology at the University of Liverpool. In 1971-73, Fred followed up a long-standing interest in Canada's North people by working with the International Grenfell Association. He provided solo medical care for about 6,000 people scattered along 120 miles of the Atlantic coast of Newfoundland.
Fred returned to London in 1973, when he joined UWO's student health service, holding the position of Director at his formal retirement in 1988. During the same period, he was a clinical assistant professor in the Faculty of Medicine, giving instruction in venereology, and director of the Middlesex-London Sexually Transmitted Disease Clinic. On his retirement, Fred was able to resume his connection with the Chemistry Department with the rank of Professor Emeritus.
Honorably, Fred volunteered to be exposed to chemical weapons as part of the war effort, and in 1943 suffered temporary blindness from the experiment. The heroic story of Fred's military contributions have been chronicled by the BBC.
Please see our Chemistry Department History page for more information on our Department
Previous Pattison Lecturers
2016-2017 Michael Sherburn, Australian National University
2015 Craig Hawker, University of California, Santa Barbara
2014 Stephen Hashmi, University of Heidelberg, Germany
2013 Darren J. Dixon, University of Oxford
2011 Guy Bertrand, University of California, Riverside
2010 Dennis A. Dougherty, California Institute of Technology
2009 Chad Mirkin, Northwestern University
2008 Erik Sorensen, Princeton University
2007 François Deiderich, Eidgenössische Technische Hochschule
2006 Juan C. (Tito) Scaiano, University of Ottawa
2005 Lutz Tietze, Georg-August-University
2004 Victor Snieckus, Queen's University
2003 Richard V. Wolfenden, North Carolina
2002 Anthony G. M. Barrett, Imperial College
2001 Dennis P. Curran, Pittsburgh
2000 Joseph B. Lambert, NorthwesternUniversity
1999 Sir Fraser Stoddart, Northwestern University
1998 Larry E. Overman, UC San Diego
1997 A. J. Kirby, Cambridge
1996 S. V. Ley, Cambridge
1995 S. J. Benkovic, Pennsylvania State
1993 B. Trost, Stanford
1992 Sir Derek H.R. Barton, Texas A&M