Why Choose Physics and Astronomy?
Why Choose Physics and Astronomy?

Our students belong from day one.
Our students are an active part of a dynamic and warm learning community, from first-year right through to graduation. Small class sizes, whether the course is offered on-site or on-line, ease the way so that you get to know your peers and instructors.
A dedicated undergraduate seminar course exposes students to research and a provides regular opportunities to discuss and exchange with experts and each other.
Our students are integrated into research groups and benefit from the mentorship of graduate students and faculty. Beyond the classroom, students can join the Physics and Astronomy Student Association (PASA) or choose from outreach activities to engage with the London community in fun and fulfilling science awareness initiatives.
Western is among the top research universities in Canada.
Ground-breaking exploration of a broad range of topics from solar cells technology and medical imaging to meteor tracking and exoplanet identification happen here.
Physics & Astronomy students have the opportunity to engage in a hands-on research project with a faculty member in their area of interest, apply their theoretical understanding to a real scientific problem and present their findings to the department.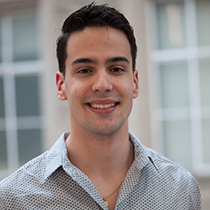 "I have been involved in three major research studies at Western over the course of my undergraduate degree. In each case, I was assigned my own project and although they were always prepared to offer guidance, my supervisors gave me the room to grow independently as a researcher. It was so gratifying to know that my input and insight mattered. That was one of the many reasons I was drawn to do research at Western." - Dylan Del Papa
By taking full advantage of engaging class, lab, and field environments or participating in an optional eight to sixteen-month internship, our students develop a strong portfolio of technical skills.
From problem-solving, advanced numeracy, experimental design, to computer simulation and data analysis, students gain experience with the tools and techniques of modern technology, all of which are in high demand by academia, government, and industry employers.
Physics & Astronomy graduates are uniquely prepared to translate these skills into successful careers in areas as diverse as pure and applied research, medicine, engineering, and finance.
Select among the scores of degree options at Western and begin your customized learning journey.
Western offers the flexibility to pursue a degree especially suited to you.
Follow your passion for physics or astronomy in an Honors Specialization module or explore the rapidly evolving discipline of Medical Physics.
Delve into more than one discipline with a combined degree or nurture your interest in science and engineering or science and business with a concurrent degree with one of our world-class professional programs.