Why Choose Chemistry?

Western offers the flexibility to pursue a degree especially suited to you.
Follow your passion and explore Chemistry or Biochemistry and Chemistry in an Honors Specialization module or couple your interest for Medical Sciences and Chemistry in an Honors Specialization in Chemical Biology.
Delve into more than one discipline with a combined degree or nurture your interest in science and engineering or science and business through a concurrent degree with one of our world-class professional programs.
Select among the scores of degree options at Western and begin your customized learning journey.
Students in an Honors Specialization or a Specialization in a Chemistry module are guaranteed, in their final year, a research project which they complete under the supervision of a faculty member.
Research positions with our labs are available each summer often providing our students with the opportunity to publish their first paper in a national or international journal, as are 8 to 16-month paid internships in government and industry labs in third-year.
Our chemistry professors want to know your name and learning style so that they can help you grow into the best version of you.
We help chemistry students build their professional network starting in their first year, fostered by industry guest speakers and shadowing opportunities with senior research students.
Our "Chem Club", run by the undergraduate student association, also provides you with opportunities to participate in outreach activities, benefit from academic mentoring, and enjoy social events with peers and faculty.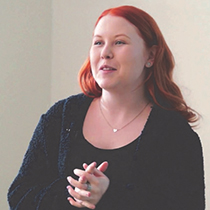 "Western provided me with the tools and resources necessary to meet people who had similar interests and who wanted to see me succeed. The teaching assistants and professors were exceptional and reached out to students to actively engage with them. I'm very grateful to Western for giving me the opportunity to expand my knowledge of Chemistry and for supporting me along the way." – Claire Tully BSc 2018
Chemistry students at Western have the opportunity to explore future careers through paid internships that range from 8 to 16 months. This extended period allows participants to experience a full project cycle, have time to integrate into professional teams, and expand their professional networks and skills.
And, we take the time to train them through mock interviews with our government and industry partners.
Some come away with a new passion for their studies, others with a job, and all with a unique breadth of experience.
The Department of Chemistry integrates the use of technology in our classrooms and teaching laboratories so that both blended and online learning are central to our first- and second-year classes.