New Secure Bike Shelter
December 2020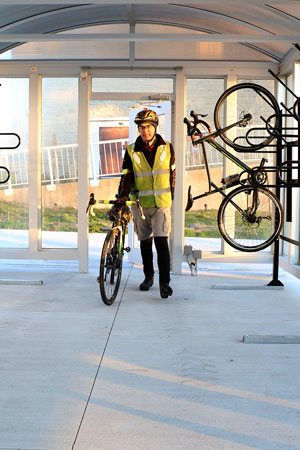 Cyclists riding to campus will have a new secure and weather-protected bike shelter in which to lock up this Fall. Facilities Management (FM), with funding from Parking & Visitor Services, installed the highly anticipated 60-bike capacity unit adjacent to Alumni Hall.  
The new 550 square ft structure further supports the University's larger Open Space Strategy, which acknowledges the need for covered and secure bike parking facilities in key areas. Active transportation has been earmarked as an area of opportunity in the plan and the senior administration sees the enclosure as an initial step.  
"The addition of the new bike shelter signals our commitment to enhancing cycling infrastructure on campus," says Alexis Fowler, Manager, Parking & Visitor Services. "There is growing interest in cycling to campus and this addition makes Western a more accommodating destination for those choosing active transportation."  
The shelter design features a mix of metal columns and glass walls with an entrance door facing north. Newly wired electrical and data lines will work to lock the door and restrict access to registered Western ONECard users. The metal racks housed within will provide an added layer of security for bike lock-up. Photovoltaic panels along the roof will provide enough power to illuminate the interior. 
Western's campus rests along the banks of the picturesque Thames River – a great backdrop for active transportation. Its proximity to the tributary puts the University in a perfect position to tap into that existing multi-use path network that branches throughout the city. The shelter is connected by bike lanes leading from the Thames Valley pathway, up Middlesex Drive and along Oxford Drive.  
Throughout construction, the secure bike lock-up has gained the attention of cycling enthusiasts and members of the Western Active Transportation Society. Tweets from the group featuring the newly poured concrete pad and delivery of shelter components were 'liked' by followers.  
"The new bike parking structure is critical for enabling active transportation options to campus," says Chris DeGroot, Assistant Professor, and cycling enthusiast. "Many people are deterred from biking to campus because they don't have a safe and secure place to leave their bikes. This helps solve this problem and definitely encourages people to use sustainable transportation modes like cycling."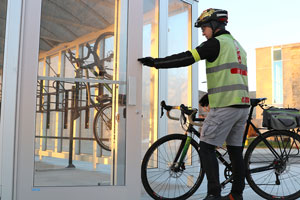 Permits for the bike shelter are purchased through Parking & Visitor Services and only permit holders will have access to the shelter. Unlike vehicle permits, bike shelter permits are virtual and no hangtag is required. However, patrons will need their Western ONECard to swipe for access. Details are available on the Parking & Visitor Services website: https://www.uwo.ca/parking/services/bike_locker.html 
For safety, cyclists and pedestrians are not permitted to pass through the gated lane as gate arms may raise and lower without warning. Cyclists should dismount and share the walkway with pedestrians.  
Along with additions to cycling infrastructure, the Open Space Strategy has also guided the prioritization of pedestrian areas with the development of Kent Drive in front of University College (https://news.westernu.ca/2018/04/university-college-kent-drive-landscape-work-begin/) and the reconfiguration of Alumni Circle. (https://news.westernu.ca/2016/08/work-looks-upgrade-alumni-circle-pedestrian-safety/)