2021 Graduate Elyse Hudson Highly Commended In Global Undergraduate Awards
2021 Graduate Elyse Hudson Highly Commended In Global Undergraduate Awards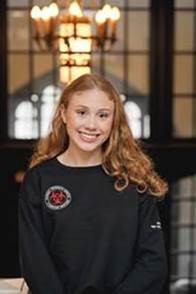 It gives us great pleasure to announce that Ms. Elyse Hudson, former undergraduate student in our department, was given a "Highly Commended" citation in the 2021 The Global Undergraduate Awards competition for her submission in the Chemical and Pharmaceutical Sciences category!
The
Global Undergraduate Awards
is the world's leading academic awards program which recognizes top undergraduate work, shares this work with a global audience and connects students across cultures and disciplines. Submissions that are "Highly Commended" are the best 10% of the 2489 submissions received in this year's competition.
Ms. Hudson's submitted work was based on her Chem 4491E thesis which was completed during the 2020-2021 academic year under the supervision of
Prof Martin Stillman
. As a Highly Commended entrant, Ms. Hudson will be recognized by a) A Certificate of Recognition, b) Publication of her submission(s) in The Undergraduate Library, c) Access to the UA Alumni Network and d) Opportunity to attend the UA Global Summit which is being held online this year from November 15-17, 2021 due to the pandemic.
Ms. Hudson is currently doing graduate studies in Chemistry at the University of Toronto.
Congratulations Elyse! We are all so very proud of you. You are an inspiration!