Study Abroad & Exchanges

Western offers a number of exciting study abroad and exchange opportunities! Students from the Faculty of Arts & Humanities have travelled to Spain, Italy, Cuba, France, UK, Australia and more! For more information visit the Western International website.
---

Meet Sadie Dundas
Sadie, a third-year English Studies student received a scholarship for her exchange program at the University of St. Andrews in Scotland! Students selected for this program are awarded a $7,000 scholarship from the Canadian Robert T. Jones Jr. Foundation. 
 "My time on exchange has been incredible. There are a lot of school events, and I have made lasting friendships with people from around the world and memories I will not soon forget. If you're thinking of going on an exchange -- just do it. It is life-changing."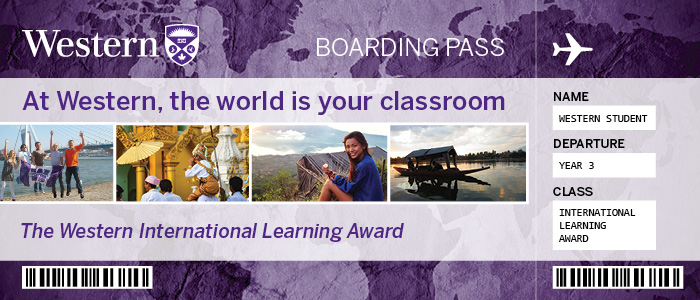 Western International Learning Award
Available to full-time undergraduate students who have completed first year, planning an international learning experience in the summer immediately following their first year of studies up until the end of April in their fourth year of studies. If you have a cumulative average of at least 70% with a full-time course load at the end of the most recently completed term, you will be eligible for a $1,000 award to help finance an international learning experience.
Academic Exchange
Summer Study Abroad 
International field courses and faculty-led programs
Impact Experience
Internships
Practicums, clinical and field placements
International Research
Other University-led experiences
For more information visit Western International website
---
Western International Introduces the Global and Intercultural Engagement Honour 

Contemporary globalized society favours university graduates with global and intercultural competencies, and Western International's new Global and Intercultural Engagement Honour will recognize students' experience and engagement in such activities during their time at Western. Once achieved, the Honour will appear on the student's official transcript upon graduation. The structure of this program allows students to incorporate both curricular and extracurricular activities. Students awarded this honour will be global-ready graduates: they will have the skills required to negotiate an increasingly globalized reality, both professionally and personally. Learn more