Research

The Faculty of Arts and Humanities has a long and proud tradition of academic excellence. We rank consistently as one of the top Faculties in the Arts in Canada. Our nine departments and programs bring together over 150 full-time Professors, many of whom hold teaching and research awards on the local and international stages.
Research Spotlight:
By Western News, March 23, 2018

Patrick Mahon, Visual Arts/SASAH, is the 2018 recipient of the Distinguished University Professorships (DUP) award, joining a select group of faculty members recognized for exceptional scholarly careers.
---
By Western News, March 23, 2018

Corey Dyck, Philosophy, and Sarah Bassnett, Visual Arts, were named 2018 Western Faculty Scholars for their significant achievements in teaching or research. The recipients are considered all-around scholars and will hold the title of Faculty Scholar for two years and receive $7,000 each year for scholarly activities.
---
By Paul Mayne, Western News, November 09, 2017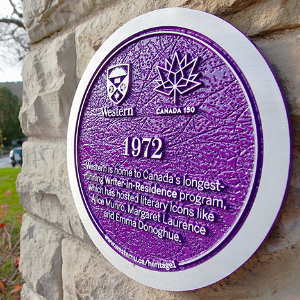 The first two historical plaques recognizing Western's top research moments were affixed to their respective buildings this week. One plaque celebrates the Writer-in-Residence program and adorns University College. Another recognizes the contributions of Zoology professor Helen Battle and hangs outside the Biology and Geology Building.
---

Beginning with the 2018 issue, Locke Studies will be an open-access, e-journal ready to face the demands of 21st century scholarship. Control of the journal will pass to the newly founded John Locke Society (JLS) and Benjamin Hill (Western) will step in as interim editor-in-chief until the new editorial board names a new editor-in-chief.
---
October, 2017

Jason Sunder received a creative writing Fellowship at the Banff Centre for Arts and Creativity in October 2017.
---
By Adela Talbot, Western News, September 28, 2017

English PhD candidate David Huebert's short-story collection, Peninsula Sinking, is out this month from Biblioasis.
---
By Paul Mayne, Western News, September 28, 2017

Medieval Studies students Samantha Tyson and Matt Burch check out some of the most recent additions to Western's Archives and Research Collections Centre, including what is now the university's oldest manuscript, a fragment of Missal of Susanna and the Elders from Germany, circa 1125.
---
By Communication Staff, Western News, September 07, 2017

Two Western scholars have been named among the new Fellows of the Royal Society of Canada (RSC). They have been elected by their peers in recognition of outstanding scholarly, scientific and artistic achievement. Election to the academies of the Royal Society of Canada is the highest honour a scholar can achieve in the arts, humanities and sciences.
---
By Jason Winders, Western News, August 2017

David Bourget (Department of Philosophy) has received $200,000 funding for Philnet through the Canada Foundation for Innovation's John R. Evans Leaders Fund.
---

Exploring the relationship between photography and the idea of family, The Family Camera looks at family photographs as a cultural practice through the lens of migration. It considers the social, political, and technological influences that impact how we conceptualize and represent family.
Curated by Deepali Dewan, Jennifer Orpana (PhD'16, Visual Arts), Thy Phu (English and Writing Studies), Julie Crooks, and Sarah Bassnett (Visual Arts).
---

A new documentary project focused on the national pavilions of the sixty countries that participated in Montreal's 1967 World Exhibition by Prof. Constanza Burucúa (Modern Languages & Literatures) will soon be exhibited in multiple locations in conjunction with Canada 150.
---
By Jason Winders, Western News, September 01, 2016

Charles Weijer, Philosophy was named Fellow of the Royal Society of Canada and Thy Phu, English & Writing Studies, was named to the RSC College of New Scholars, Artists & Scientists.
---
CBC Books, December 06, 2016

David Huebert, a Ph.D. candidate in English and Writing Studies has won the 2016 Walrus Poetry Prize for his poem "Colloquium: J.T. Henry and Lady Simcoe on Early Ontario Petrocolonialism." The prize, now in its fifth year, comes with a $4,000 purse.
---
By Adela Talbot, Western News, October 26, 2016

Yanxiang Wu, PhD Comparative Literature is one of three Western students to be awarded the 2016 Governor General Gold Medal award.
---
CBC, October 05, 2016

Kelly Olson from WesternU Classics explores brothels of Pompeii with David Suzuki on The Nature of Things airing October 6, 2016.
---
By Paul Mayne, Western News, August 29, 2016

Women's Studies and Feminist Research PhD student Jennifer Shaw Lander is collecting and analyzing oral histories of Canadian Jewish women who were active on the home front or were girls during the war.
---
By Dale Carruthers, London Free Press, August 22, 2016

Michael Iannozzi, a linguist at Western University says the region has a dialect unlike anywhere else in Ontario, and he's hitting the road — recording device in hand — to gather the proof.
---
By James Purtill, Australian Broadcasting Corporation, July 23, 2016
Rotman philosopher shares views about disorders and addictions being treated as passions.
---

Modern Languages and Literatures professor Juan Luis Suárez and Biology professor Kathleen Hill discuss CRISPR technology and editing of the human germline genome.
---
By Jason Winders, Western News, February 4, 2016

Women's Studies and Feminist Research PhD candidate Sarah Saska looks at how innovation can be leveraged to advance women's rights and gender equality. She is grateful to have a rock star supervisor in Bipasha Baruah, Canada Research Chair in Global Women's Issues.
---
By Adela Talbot, Western News, January 13, 2016

Tim Bayne is the new chair of the Philosophy of Neuroscience at Western, a post he officially took up in November.