MEET OUR PEOPLE
Samantha Brennan
Samantha Brennan, Professor, WSFR and Philosophy, has broad ranging research interests in contemporary normative ethics, feminist theory, applied ethics, sports ethics, political philosophy, children's rights and family justice, gender and sexuality, death, and fashion. Read more 

Jessica Polzer
Jessica Polzer is Associate Professor in WSFR and Health Science, and is the current Graduate Chair. Polzer's research focuses on the politics of women's health in the 21st century, with a specific focus on the intersection of discourses on gender, health risk, and biotechnology. Learn more. 

Melanie Stone
Melanie Stone is a Phd candidate in the Department of Women's Studies and Feminist Research. She is the recipient of the 2016 Vanier Scholarship for her work on motherhood, work and disability. You can read more about Melanie's research here. 
News
Building gender equality in post-conflict Liberia
June 05, 2017
What are the prospects and challenges for gender equality in a post-conflict society?

This is one of the questions Erica Lawson, Associate Professor in the Department of Women's Studies and Feminist Research, intends to research.

Lawson was recently awarded a $110,000 grant from the Social Sciences and Humanities Research Council of Canada to research Peace Huts, Gender Equality, and Women's Post-Conflict Aspirations in Liberia.

Lawson was drawn to the topic through the documentary "Pray the Devil Back to Hell". The film documents the role of women to end the Liberian Civil War (1989-2003). Mass protests led by Women of Liberia Mass Action for Peace played a major role in encouraging peace talks, and eventually putting an end to the war. Read more.
---
Bipasha Baruah speaking in Cyprus at EBRD Conference

Dr. Bipasha Baruah Canada Research Chair in Global Women's Issues was recently interviewed by the European Bank for Reconstruction and Development and is an invited speaker at their conference in Cyprus.
Read the interview: Making Green Growth Work for Women
Information on the Conference
---
Western Students unearth 150-year-old headstones at local cemetery
by Debora Van brenk
Women's Studies student Levi Hord  is the team leader at Woodland Cemetery where Western students have uncovered 60 headstones transplanted in the 1950s from St. James Cemetery. Some are more than 150 years old. read more.
---
What we offer
Graduate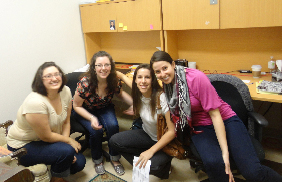 Program Highlights