MEET OUR PEOPLE
Samantha Brennan
Samantha Brennan, Professor, WSFR and Philosophy, has broad ranging research interests in contemporary normative ethics, feminist theory, applied ethics, sports ethics, political philosophy, children's rights and family justice, gender and sexuality, death, and fashion. Read more 

Jessica Polzer
Jessica Polzer is Associate Professor in WSFR and Health Science, and is the current Graduate Chair. Polzer's research focuses on the politics of women's health in the 21st century, with a specific focus on the intersection of discourses on gender, health risk, and biotechnology. Learn more. 

Mayme Lefurgey
Mayme Lefurgey, PhD candidate, was named among four Western PhD candidates to receive the Vanier Canada Graduate Scholarship. Read more
NEWS & UPDATES
Welcome back students!
We hope youv'e had a lovely Summer and are looking forward to a successful year. Please check our website for course and program information. If you do not have the prerequisite for a course, you can ask the permission of the department at wsfr@uwo.ca. 
---
Why should Canadians care about gender equity in clean energy employment?
By Dr. Bipasha Baruah Associate Professor in WSFR and Crystal Gaudet Ph.D student in WSFR. Read more
---
Western News: Study explores role of Jewish women on homefront 
by Paul Maynard
Women's Studies and Feminist Research PhD student Jennifer Shaw Lander is collecting and analyzing oral histories of Canadian Jewish women who were active on the home front or were girls during the war. Read more.
---
What we offer
Graduate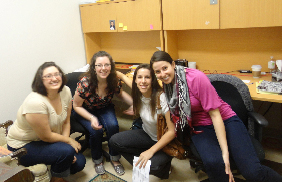 Program Highlights