Département d'études françaises / Department of French Studies
Bienvenue sur le site du Département d'études françaises, l'un des sept départements qui constituent la Faculté des lettres, arts et sciences humaines de l'université Western. / Welcome to the website of the Department of French Studies, one of the seven departments that make up the Faculty of Arts and Humanities of Western University. Read more...
Useful Information
If you are interested in the Third Year in Nice Exchange Program, come to one of these sessions:
Thursday, October 23, 5:00 PM
OR
Friday, October 24, 1:30 PM
Arts and Humanities Building room 2R 09
---
---
News & Events
L'Atelier des cinéphiles présente: Un condamné à mort s'est échappé de Robert Bresson (1956). Jeudi, 23 octobre à 19h, AHB 2R 09.
---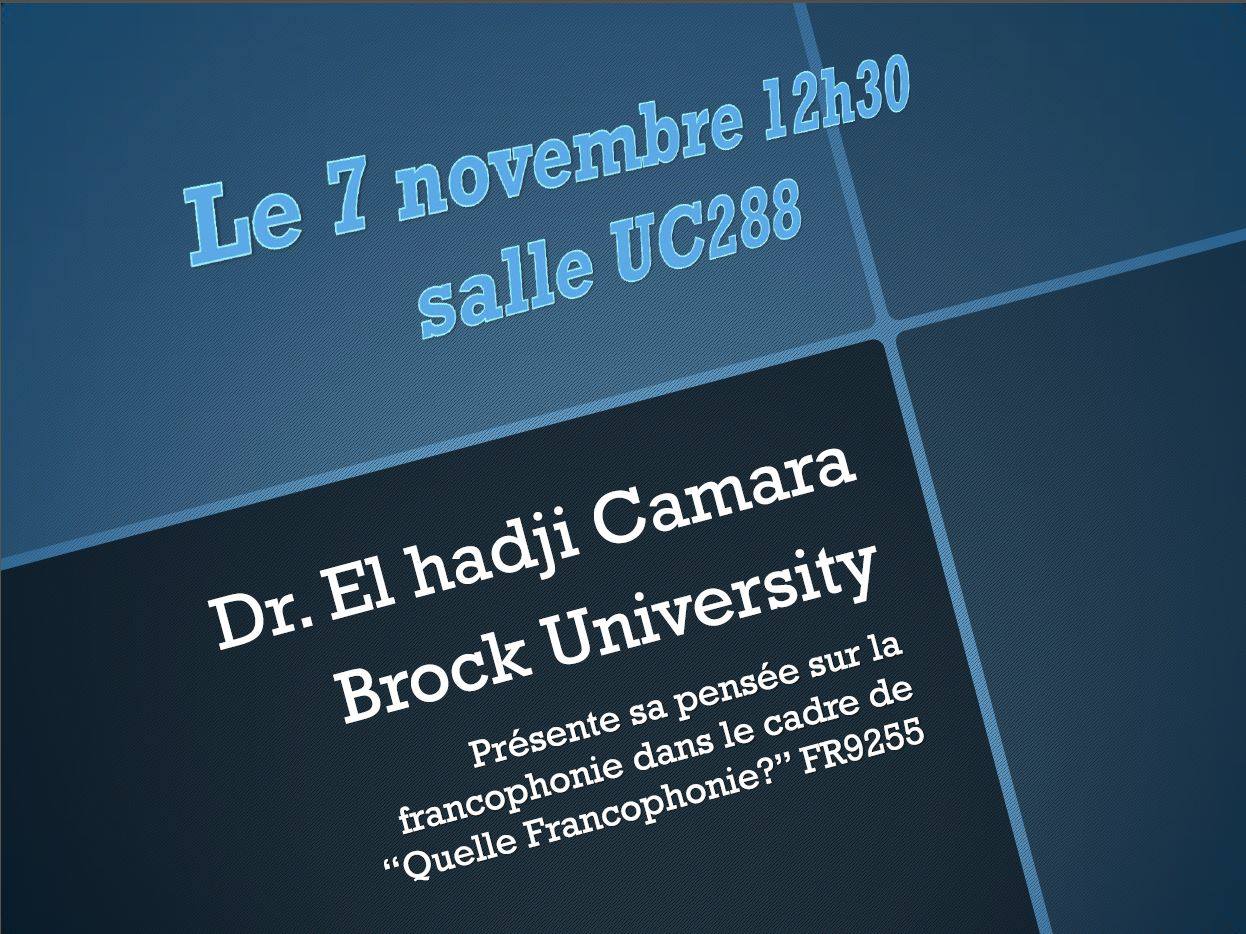 El hadji Camara fera une intervention dans le cadre du cours FR 9255 ("Quelle Francophonie?") le vendredi 7 novembre, 12h30, salle UC 288.
---
What we offer
Our students are multi-talented!  Whether you are specializing in Science, Business, History, Law, English, Music -- or any of the many other disciplines that Western offers  -- knowledge of French is always an asset in the job market, and in life.  Come and find out that Canada really is a bilingual country!
Vous cherchez à suivre des études supérieures en littérature ou en linguistique dans un contexte qui offre la diversité culturelle, une vie intellectuelle dynamique et une communauté collégiale qui réunit professeurs et étudiants?  Il n'est pas trop tard pour poser votre dossier au Département d'études françaises.