Featured Research
Natalie Trevino, The Cosmos is Not Finished, Doctor of Philosophy.
Alexandra M. Hudecki, "Second Sight": Acknowledging W.E.B. Du Bois's "Double Consciousness" as a Step Towards Dissolution, Master of Arts.
Matthew Prokopiw, Religion in Modern Sports Fanaticism: From Classical Antiquity to Online Sports Forums, Doctor of Philosophy.
---
Issue #6 of Chiasma: A Site for Thought, '±Disenchantment' is now available!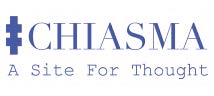 Find a variety of seminars, conferences, publications and lectures by both internal and external faculty and students on our media page.
---
Events

THURSDAY, FEBRUARY 11th: Dr. Arne De Boever on "Finance and Friction." Upcoming speakers: Dr. John Ó Maoilearca, and Dr. John Paul Ricco. More information HERE.
---
Tuesday, January 26, 2021
The Eyes with Two Faces: Culture/Transition Diary #2
A Theory Session with Christina Elle Burke
---

22nd Annual Graduate Conference "Camp/camp: a collision of style and biopolitics", organized by Comparative Literature, Theory & Criticism, and Hispanic Studies at Western University.
---