Featured Research
---
Maxwell Hyett, Han and Dada: Early Expressions of New Affliction, Master of Arts.
Shannon Lodoen, The Myths That Make Us: An Examination of Canadian National Identity, Master of Arts.
Alexander Harasymiw, Hallucinating the Ukrainian Cityscape: A Reevaluation of Walter Benjamin's Urban Experience for a Postsocialist Context, Master of Arts.
Anca Radu, Performing Spatial Justice, Master of Arts.
---
The fourth issue of CHIASMA is here!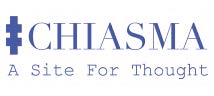 Find a variety of seminars, conferences, publications and lectures by both internal and external faculty and students on our media page.
News
The Theory Sessions--a student-run initiative--serves as a forum for the exchange of ideas to promote interdisciplinary research in theory at the Centre and across campus. Students and faculty present their papers and engage in spirited discussions, with contributions from interested Centre scholars as well as faculty and students from other fields and disciplines at Western.
For anyone who is interested, please email an abstract of 150-300 words to Maxwell Hyett at mhyett@uwo.ca.
---

Each year The Speaker Series brings in several visiting guest lecturers. Speakers over the years have included Jean Baudrillard, Lauren Berlant, Peter Brooks, Norman Bryson, David Carroll, Anthony Cascardi, Wlad Godzich, Jean-Joseph Goux, Elizabeth Grosz, N. Katherine Hayles, Linda Hutcheon, Martin Jay, Michael Hardt, Agnes Heller, Barbara Johnson, David Farrell Krell, Murray Krieger, Arthur Kroker, Dominick LaCapra, Jerome McGann, J. Hillis Miller, Chantal Mouffe, Christopher Norris, Mark Poster, Richard Rorty, Charles Scott, Thomas Sebeok, Kaja Silverman, Gayatri Spivak, Bernard Stiegler, Samuel Weber, Hayden White, Slavoj Žižek, and many others.
---
The Centre sponsors a variety of seminars, conferences, publications and an active program of lectures and colloquia by both internal and external faculty.