Events
Friday, March 22 - Dr. Michael Gardiner on "Not your father's boredom': Late-modern ennui in Ben Lerner's Atocha Station" 3:30 pm in StvH 3165.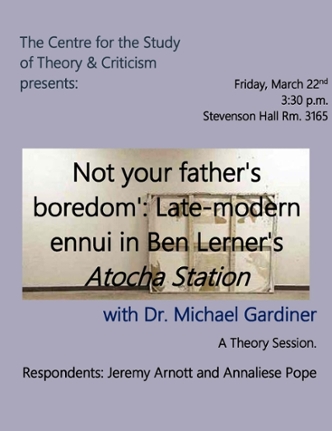 ---
Conferences and Media
CODING-DECODING-RECODING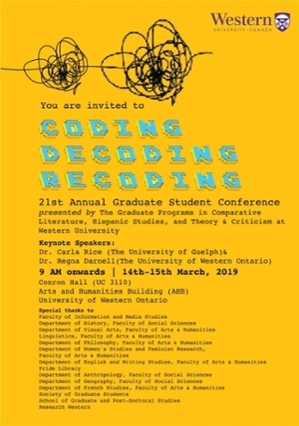 21st Annual Graduate Student Conference
Comparative Literature, Hispanic Studies, Theory and Criticism – Western University - March 14th - 15th, 2019
---
---
The fourth issue of CHIASMA is here!

Find a variety of seminars, conferences, publications and lectures by both internal and external faculty and students on our media page.

Thursday, March 14: Dr. Joan Copjec (Brown University) "From the Cloud to the Resistance."
Featured Research

Core faculty and graduate students conduct research across a wide range of disciplines and topic matters--view a snap-shot of some of the most recent projects associated with Theory and Criticism
---
Recent Dissertations and Theses
Elizabeth Song, Spirals: Spacing, Trauma, Becoming, and Autoimmunity with Caruth, Derrida, Freud, Itō, and Miyazaki, Master of Arts.
Vladimir Cristache, Bastard Reasoning: A "Preposterous" History of Walter Benjamin's Ideas, Doctor of Philosophy.
Averil Novak, Post-Foundational Subjects and the Aesthetics of Dispossession, Doctor of Philosophy. 
Faculty Bookshelf