Admission
Applications to the program are accepted once per year, for Fall admission. Applications open in October and the deadline to apply is January 8, 2024. In the weeks following, applications are reviewed and candidates are recommended by the programs' Graduate Studies Committee. Admission results are sent in late March. Late applications will be considered if spaces remain. 
Applications are to be submitted electronically through the online Western Graduate Application: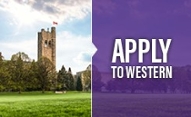 General Application Documents
Transcript(s) from each post-secondary institution attended (if the transcript is not in English, a certified translation must also be included). Western accepts digital academic records uploaded to your application. If you are offered admission, However, official hard copies must be mailed directly to The School of Graduate and Postdoctoral Studies. 
Contact information for two academic referees who will provide an online recommendation letter
$150 Application fee
Program-specific Application Documents
Statement of intent/interest in the program (no more than 2 pp., should indicate the range of the applicant's interests and preparation

 

in

 

theory, outline the kind of work they are interested in doing at the Centre, and may (but does not have to) indicate a possible area of interest for the thesis)
Two essays or other appropriate writing samples (20 page

 

max. each)
MASTER'S PROGRAM
Admission Requirements
To be considered for admission to the M.A. program, applicants must possess:
A four-year degree from an accredited university with a minimum B+ (78%) average across courses taken in the last two full-time years of study
B.A. in a field in the Humanities or Social Sciences (however, students holding other Honors degrees will also be considered)
Some demonstration of theoretical and/or interdisciplinary study at the undergraduate level is helpful, though the Committee may also consider candidates with a more general interest in and aptitude for theoretical enquiry (as indicated through grades, essays and letters of reference).
DOCTORAL PROGRAM
Admission Requirements
For admission to the Doctoral program, applicants must possess:
A Master's degree or equivalent in a Humanities or Social Science subject with a minimum A- (83%) average
Evidence of research potential and previous theoretical work, indicated by the applicant's course record and in writing samples, submitted as part of the application.
*Proof of proficiency in English - Applicants whose first language is not English must provide proof of their proficiency in English with either the Test of English as a Foreign Language (TOEFL) or other test scores for English proficiency. TOEFL waivers may be granted if the applicant studied in an English-speaking country for at least two years (as determined by the program). Minimum acceptable test scores can be found here. Applicants must have testing service send score electronically to Western.
Generally, if you are not a Canadian citizen or a permanent resident of Canada you must obtain a study permit in order to study in Canada. More information can be found on the International Student Centre web site.