Theory Sessions
"Basic Banalities" and the Situationist International: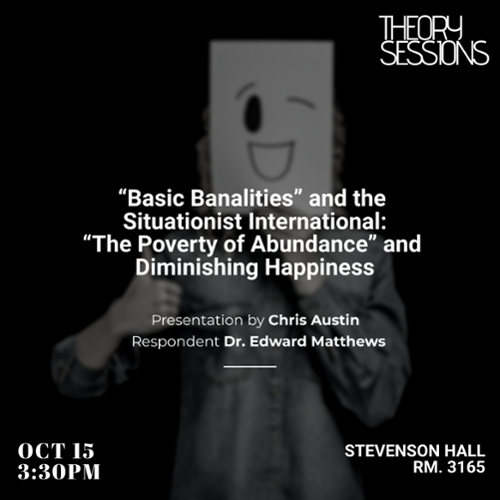 "The Poverty of Abundance" and Diminishing Happiness

This analysis brings forward several close readings of sections of Raoul Vaneigem's "Basic Banalities" and unpacks them in relation to the broader anti-capitalist and anti-materialistic sentiment of the Situationist International (SI). I explain why Vaneigem posits that alienation drives the banality of life under capitalism; in doing so, this paper focuses on Vaneigem's poignant phrase "the poverty of abundance". Under this "poverty of abundance", people are merely surviving rather than living; happiness and life fulfillment are lost in a self-defeating pursuit of an abundance of material goods and capital. This paper places Vaneigem's condemnation of capitalism in conversation with Gregg Easterbrook's 2004 book The Progress Paradox: How Life Gets Better While People Feel Worse. I identify how Easterbrook's contemporary phrase "abundance denial" runs parallel to Vaneigem's concept of "the poverty of abundance"; this comparison brings forward the conclusion that the SI were right about life under capitalism becoming materially "improved" but affectively impoverished. I end this paper by using Sara Ahmed's book The Promise of Happiness as a framework to suggest ways in which people can recalibrate their relationships with the capitalist paradigm so to resist this "poverty of abundance" and "abundance denial".
Bio: Chris Austin is a second year PhD student in the Centre for the Study of Theory and Criticism at Western University and an Adjunct Professor in the School of Language and Liberal Studies at Fanshawe College. Chris is an avid guitar player and most of his time outside of his classes and studies is spent producing music and working with other independent artists. Since the pandemic began, Chris has been living in beautiful Kincardine, but he does miss living in London and hopes to return soon as the world starts to return to more in person activities.
The Theory Sessions are a student-run tradition at the Centre for the Study of Theory and Criticism. They promote interdisciplinary research across the campus, providing students and faculty with the opportunity to present their work and engage in lively discussions. We welcome all topics and enjoy presenting an eclectic range of scholarship. We have held sessions from scholars in a wide range of disciplines such as computer science, medical science, philosophy, English literature, women's studies, sociology, political science, visual arts, art history, psychology, history, and more. 

The presentations are 20 minutes long and are often on the core research topics of students and faculty at the Theory Centre. We also welcome students and faculty from other departments to submit their papers. Following the presentation, at least one designated respondent will initiate a discussion with the presenter. Anyone attending the session is welcome to join this discussion period. These will typically last 20-30 minutes.   

Theory Sessions facilitate an academically rigorous environment to present cohesive and cogent thoughts on subjects that our speakers are genuinely passionate about. Our sessions aim to bring forward meaningful and productive discussions. Theory Sessions provides a rich opportunity to develop papers for publication, prepare for conferences, and develop performance art or presentation skills. We encourage you to have fun and experiment in our community of curious and caring thinkers.  

Who can do Theory Sessions?

Students and faculty in the Theory Centre are given priority for sessions; however, we also encourage people from other departments to send us your work. We will make every effort to accommodate as many sessions as possible.  

If you are interested in presenting, please send an email with an abstract of approximately 200 words, and a brief 100 word bio to theorysessions@groups.uwo.ca. Please address your submission to Jevonne (Jevi) Peters and Chris Austin. Your abstract and bio will be used to announce your session to the university community.