2018-19 Speaker Series
Each year The Speaker Series brings in several visiting guest lecturers. Speakers over the years have included Jean Baudrillard, Lauren Berlant, Peter Brooks, Norman Bryson, David Carroll, Anthony Cascardi, Wlad Godzich, Jean-Joseph Goux, Elizabeth Grosz, N. Katherine Hayles, Linda Hutcheon, Martin Jay, Michael Hardt, Agnes Heller, Barbara Johnson, David Farrell Krell, Murray Krieger, Arthur Kroker, Dominick LaCapra, Jerome McGann, J. Hillis Miller, Chantal Mouffe, Christopher Norris, Mark Poster, Richard Rorty, Charles Scott, Thomas Sebeok, Kaja Silverman, Gayatri Spivak, Bernard Stiegler, Samuel Weber, Hayden White, Slavoj Žižek, and many others.
Watch some of our previous talks on youtube!
Upcoming speakers:
~
December 7, 2018
Dr. David Ferris
The Humanities Program, University of Colorado at Boulder
"Agamben's Exception: Misreading Schmitt and Benjamin"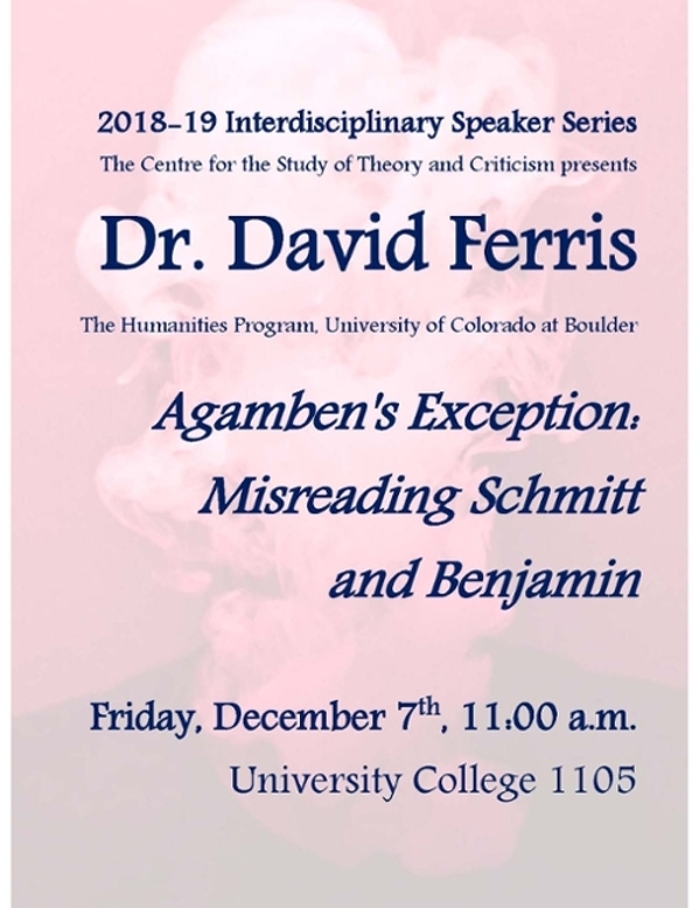 ~
March 14, 2019
Joan Copjec
Professor of Modern Culture & Media at Brown University
"Correlation Iranian Style, or: Kiarostami between Lacan and Corbin"
Past Speakers include:


Dr. Robert Nicholls
Heidegger, Nietzsche and Nihilism
September 28, 2018
Dr. Simona Forti
The Ghost Of Totalitarianism: Between Politics and Philosophy
March 21, 2018
Dr. Mariana Ortega
Altars for the Living: Shadow Ground, Aesthetic Memory, and the U.S/Mexico Borderlands
March 16, 2018
Dr. Jodi Byrd
Playing Stories: Never Alone, Indigeneity, and the Structures of Settler Colonialism
November 20, 2017
Dr. Jean-Michel Rabaté
Rust Theory
November 10, 2017
Patrick Gamsby
The Dialectic of One-Dimensional Man
September 29, 2017
Catherine Malabou
Passionate Disattachments: The Work of Catherine Malabou
February 5 & 6, 2016