2018-19 Speaker Series
Each year The Speaker Series brings in several visiting guest lecturers. Speakers over the years have included Jean Baudrillard, Lauren Berlant, Peter Brooks, Norman Bryson, David Carroll, Anthony Cascardi, Wlad Godzich, Jean-Joseph Goux, Elizabeth Grosz, N. Katherine Hayles, Linda Hutcheon, Martin Jay, Michael Hardt, Agnes Heller, Barbara Johnson, David Farrell Krell, Murray Krieger, Arthur Kroker, Dominick LaCapra, Jerome McGann, J. Hillis Miller, Chantal Mouffe, Christopher Norris, Mark Poster, Richard Rorty, Charles Scott, Thomas Sebeok, Kaja Silverman, Gayatri Spivak, Bernard Stiegler, Samuel Weber, Hayden White, Slavoj Žižek, and many others.
Watch some of our previous talks on youtube!
Upcoming speakers:
~ 
March 8, 2019
Christine Daigle
Director of the Posthumanism Research Institute and Posthumanism Research Network,
and Professor of Philosophy at Brock University
"Solving the Dissolve: Collective Material Agency"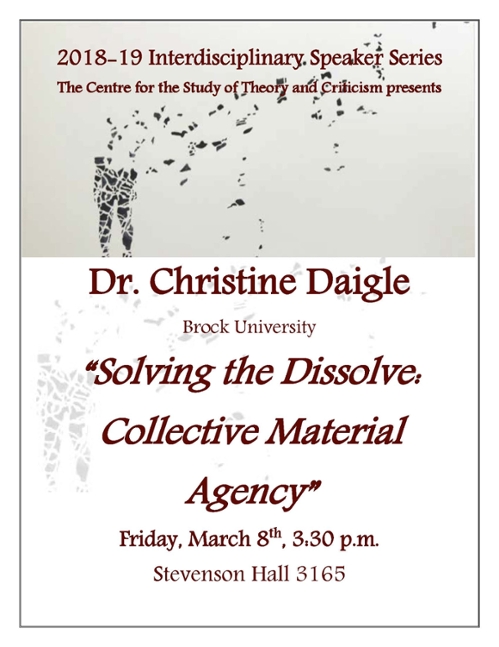 Material feminists have reconceived the human and dismantled human exceptionalism by showing how we are material bundles permeated and interconnected with their habitats and other beings. However, there is a sense in which looking so closely at matter, through the lens of quantum theory or the atomic field of energy for example, makes it dissolve as matter. If we embrace a view of the human as non-exceptional, radically material, permeable, and constituted by its habitat, one might ask whether "we" do not dissolve too. The problem is to recuperate the "itness" of our bodies and thereby some, albeit minimal, locus of agency. Indeed, if a worldview that was obsessed with the powers of the mind as separate from materiality led us to undo the world and ourselves with it, dismissing this view with a focus on materiality can be the key. However, there is a problem that remains unresolved for material feminists, namely to establish a stable enough locus of human agency. Examining Nietzsche's notion of the "soul as subjective multiplicity" and of the body as grand reason alongside material feminist proposals, I inquire ways to conceive of agency as embedded in materiality, collective, and stable enough to effect change.
 ~
March 14, 2019
Joan Copjec
Professor of Modern Culture & Media at Brown University
"From the Cloud to the Resistance"
Past Speakers include:


Dr. Diane Enns
Organized Loneliness
February 8, 2019

Dr. Paul North
Likeness and the World's Face
February 1, 2019
Dr. David Ferris
Agamben's Exception: Misreading Schmitt and Benjamin
December 7, 2018
Dr. Robert Nicholls
Heidegger, Nietzsche and Nihilism
September 28, 2018
Dr. Simona Forti
The Ghost Of Totalitarianism: Between Politics and Philosophy
March 21, 2018
Dr. Mariana Ortega
Altars for the Living: Shadow Ground, Aesthetic Memory, and the U.S/Mexico Borderlands
March 16, 2018