Student Profiles
The undergraduate program at Western Science is a mosaic of students with diverse interests, areas of expertise, and career aspirations. Their common characteristics include the drive to explore, the need to innovate, and the will to develop pinpoint expertise which could lead to the next eureka moment. Discover some of the interesting personalities, past times, and pursuits of the next generation of science leaders.
Featured Profile
Lena Schreyer: Former guerrillas inspire the redefinition of success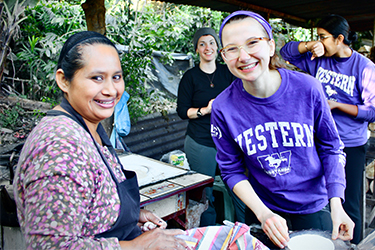 What connects the Guatemalan coffee trade with Western's neuroscience program? Aside from the expected level of caffeination among university students, the answer lies with this year's Impact Experience. This annual excursion, formerly known as Alternative Spring Break, took 3rd-year neuroscience student Lena Schreyer, along with several peers in the Scholar's Electives program to Guatemala to learn about the link between the country's ex-guerrilla fighters and one of the country's top-trading commodities. "The theme was from seed to shelf," explains Jeff Hutter, Associate Dean of the Faculty of Science, "We were able to see first-hand how trade in the precious coffee bean has contributed to a concentration of wealth in Guatemala, and how towns of former guerrilla fighters have formed coffee collectives to support their communities."
Schreyer, entering her third year this fall, found the trip eye-opening. "We live in such a wealthy country, full of opportunities, and access to education. It was a grounding experience to see how communities with far less than us, have such strong relationships." Learning about how former fighters have rebuilt their towns through a powerful sense of unity and an industrious approach to equitably trading in coffee has left a mark on Schreyer and her peers. "Seeing their mentality enacted, that a person only succeeds when their community succeeds, has given me pause to reflect on my own path," she says.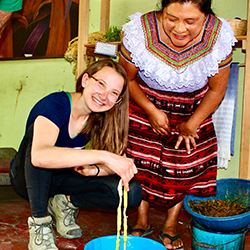 Since beginning in the neuroscience program, Schreyer's eyes had always been set on a career in medicine. "After the Impact Experience trip, I've rethought how I define success," she says. Having founded her own successful NGO in high school, she is no stranger to empowering a community in order to create opportunities for success. Schreyer's organization, BEECUZ, offers a twelve-week curriculum to elementary school students to build their mental health literacy. "From my own experiences with mental illness, I found that most health services took a reactive approach. I set out to create a proactive program that would set students up for success by circumventing some of the mental health challenges before they arise," says Schreyer.
"My project is assessing the impact of mental health education in schoolchildren," - Lena Schreyer
Her program to give young students the opportunities to practice and apply their newly-learned mental health literacy skills also ties into her undergraduate research project in the Scholar's Electives program. "My project is assessing the impact of mental health education in schoolchildren," she explains. BEECUZ recently received a $20,000 grant from Pillar Nonprofit Network as part of a competition to design initiatives to help communities rebuild and prosper after the Covid-19 pandemic. "Returning from Guatemala, I saw BEECUZ as a way for me to redefine my own success. Just like how they define their successes by the health of their communities, so can I, by channeling my energies toward my own community and its most vulnerable."

Previous Student Features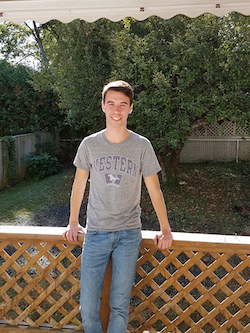 Few are more deserving of the title "Boy Wonder" than Matthew McCready; if doing a BSc in physics and playing the tenor saxophone in the Western Chamber Music wasn't enough, he just won his second NSERC Undergraduate Student Research Award to work over the summer in a lab in his home department. All within the first three years of his undergrad. Finishing up his first research project under the supervision of Dr. Eugene Wong, Matthew is developing computer models to map the growth of renal carcinomas – cancerous tumours of the kidney. Kidney tumours are treated by a class of drugs which cut off blood supply to the tumour in an attempt to starve it. Unfortunately, these tumours have the unique ability to activate a second type of metabolism in response to drug treatment, allowing them to survive even under heavily-reduced blood supply.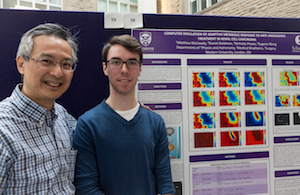 Matthew has built two mathematical models – one for pre-treatment and one for post-treatment metabolism of the kidney tumours with the goal of finding a clear difference between the two types of metabolism. Once the tumour activates its second metabolism in response to the drug treatment, it becomes very difficult to kill. Matthew's work is part of a larger project within the Wong lab to calculate precise individual treatment doses that can effectively combat kidney tumours without engaging their troublesome backup metabolism.
His next undergraduate research project will be with Dr. Blaine Chronik in physics to investigate how radio waves in MRI machines cause heating problems for pacemaker patients. Matthew enjoys the close relationships his physics labs have with medical research and hopes to pursue a PhD in medical biophysics.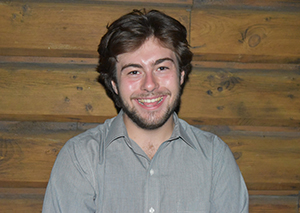 Nicholas sat down with Western Science to chat about some of his experiences and what life is like for a student in the Integrated Science Program (WISc)
This program has absolutely benefited my learning as it forces you to not categorize your thoughts into the typical boxes of Biology, Chemistry, Physics, and so forth. I know that one day I hope to develop my own theories and perform science experiments to test them out and this program is absolutely helping me achieve these goals.
I chose Western because I knew it is a fantastic institution with a strong science department. The Physics department at Western is relatively small and close-knit, this really enriches the learning environment. Western also has a great community feel.
The second semester of first-year Integrated Science is intense. Even if it seems like a lot of work time management skills are highly developed. All of the professors are incredibly smart and accomplished people who are there for you at any time.
I absolutely feel mentored by everyone in the Physics department. There is a weekly lecture/seminar by different professors in the department so that the younger students are able to interact with the older students and form relationships that extend to mentoring. With the Integrated Science Program, it is clear that in the future there will be a lot of mentoring, and since I am a member of the inaugural class I will have the chance to be one of the mentors.
In all of my physics and math courses, I am developing the skills to describe the world around me in terms of mathematical models. The power of these mathematical tools is huge; the ability to predict the future state of a system. The two biggest skills learned in the integrated science program is a critical analysis/synthesis of scientific information from varying fields as well as scientific writing skills. Relative to the traditional science modules the integrated science program stresses heavily the importance of communicating and synthesizing scientific results.
My experience at Western so far has been incredible! I've made friends that I am sure will be life-long, memories I'll never forget, and have been blessed to be part of such a wonderful program that has taught me so much and given me so many opportunities.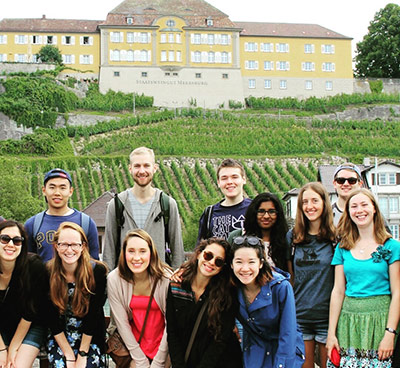 I distinctly remember my first thought a few hours after arriving in Germany: everything is on schedule. The trains and buses arrived exactly on time and left precisely thirty seconds later. Everyone was dressed in business attire, had no time to waste, and were set on getting to work. The meticulousness and strong work ethic often found in Germans would later serve me well when I was spending long days tinkering away in a research laboratory.
In the 2014-2015 academic year, I was one of a few Western University undergraduate students chosen to be a part of the Ontario Baden -Wurttemberg (OBW) Summer Research Program, which is a collaborative university exchange program between Ontario and the Baden-Wurttemberg region located in Southern Germany. This program provided me with a supervised internship in a scientific laboratory at one of the most prestigious universities in Germany—the Albert-Ludwigs-Universit ät Freiburg, also known as the University of Freiburg. With more than 24,000 students from over 100 nations enrolled in 180 different degree programs, the University of Freiburg is one of Europe's top academic institutions.
The OBW application process took me approximately two months. One of the most challenging aspects of applying is that prospective students must prearrange their placement with a professor from one of nine participating universities. Finding a suitable position took me almost a month because I needed to explore the various fields of research conducted at each institute and then contact potential host professors individually. Once a participant has secured a position with a professor, the rest of the process is straightforward, consisting mainly of paperwork and an application form expressing an interest in the program. Each university sets its own deadline for the applications, but they have to be received at the OBW office by the first week of December. Upon successful evaluation of the application, students receive notifications of acceptance in February. After that, all that is left is making housing and travel arrangements. The international offices at universities are very helpful when it comes to finding suitable housing and exchange students are often approved for on-campus accommodation. Furthermore, as part of the program, participants can receive a scholarship to cover housing and travel expenses.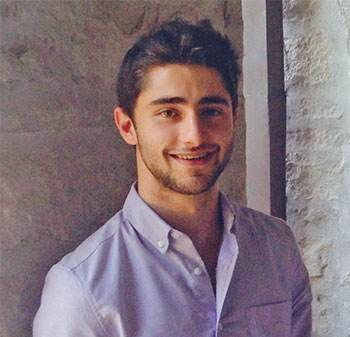 Robert Goldfarb, is a fourth-year double Major in Computer Science and Medical Science at Western University, is an aspiring entrepreneur whose ease with innovation and willingness to assume calculated risks and learn from experience has prepared him for his latest opportunity: to shadow Aly Rahemtulla, President and CEO of BSM Wireless as a winner of the Odgers Berndtson CEO x1 Day competition.
BSM is a leading provider of GPS fleet and asset management solutions for vehicles, an area of expertise with which Goldfarb is excited to become familiar. "I'm very curious about his field of work, and have a lot of questions about his endeavors and my own," says Goldfarb.
His enthusiasm is not surprising. Look up drive and ambition in the dictionary and you'll find a picture of Goldfarb in the sidebar. At 21, Goldfarb has already created a handful of successful web-based companies that create solutions and fill gaps in the market. Goldfarb's most prominent website, Brevada.com, offers business owners a way to collect "one-click feedback." This system allows customers to rate a business, based on elements like location, service, or pricing, all through the push of a button. "Feedback-gathering is something that needs to be actively marketed, not just passively performed," says Goldfarb. "I want to show my clients that I care, and offer them tools their business and their customers will find useful."
During his early undergraduate studies, Goldfarb's passion for web and software development resulted in the creation of his first start-up company, Pannle.com. The website, which operated much like Twitter, was a learning experience that allowed Goldfarb to get his foot in the entrepreneurship door. "I was naïve when I started out and pursued ideas much longer than I should have," says Goldfarb, "But failure can lead to opportunity."
Goldfarb was soon invited to collaborate on a new venture, the fruit of which was Firstinterview.ca. Now called Magnetichr.com, the firm creates hiring software for businesses, and allows job seekers to apply using video interface rather than with a resume. "I noticed most websites hiring by email, and I wanted to create something that was more personal and would allow employers to gain a better and more personal sense of the people they could hire," says Goldfarb.
In August 2013, Goldfarb founded Brevada.com. Featured as an innovative new startup by the Globe and Mail, the web service was described as the potential solution to conventional customer feedback systems. "Most websites solicit feedback by making customers answer a list of questions they may not have responses to," says Goldfarb. Brevada.com balks at the traditional approach and offers a new spin on survey delivery and efficiency. Brevada offers businesses customer feedback through a simple and sleek five-star rating system. An option for comments is available but is not a mandatory field to be completed. When a company signs up, they segment their business into different products and services, each of which can be rated by its customers. If they have multiple locations, the analytics from the feedback will flag discrepancies. This four-person high tech company serves 150 retail and industrial customers. "Brevada is in a good place, with a number of new sign-ups every week," says Goldfarb.
In May of 2015, Goldfarb will be graduating and heading to Toronto to start a job as a product and software developer at Top Hat Monocle, a company specializing in creating educational software to increase student engagement during lectures. "I've used Top Hat in some of my lectures here at Western and I'm excited to be a part of that team," says Goldfarb. Looking ahead, Goldfarb expects to continue to spread his entrepreneurial wings and tackle even more innovative endeavors. "I've grown and changed so much in the past four years as an entrepreneur," says Goldfarb. "I hope that I can encourage others to take their visions and the advice they get and make it happen."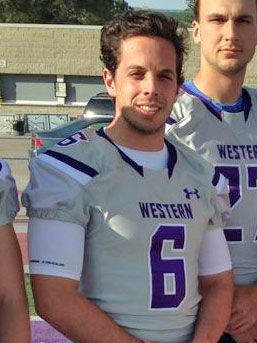 Football or Statistics? Good grades or athletics? Balancing both academic and extracurricular passions is tricky, but Western University student Marc-Philippe Aubuchon lives for the challenge. A 2nd-year transfer student in the Statistical and Actuarial Sciences Undergraduate program, Aubuchon is all about the odds. After taking Business Management at Bishop University in Sherbrooke, Quebec, Aubuchon made the bold move to London, Ontario to pursue Western's Statistics program. "I felt that coming to Western would open more doors, allowing me to learn my degree in English and live near bigger cities with a variety of career opportunities," says the Quebec native. For Aubuchon, the rush of the challenge and desire to push beyond his comfort zone keeps him moving forward.
The process of becoming an actuary requires immense dedication and a natural passion for working with numbers. Aubuchon will have to write and pass 10 exams before he can wear the title of actuary. However, this goal is not far out of reach. Aubuchon has maintained a noteworthy GPA and has been on the Dean's Honor List, all while committing a huge chunk of his time to football training. "I've never known school without football, or football without school," Aubuchon says, allowing him to manage his time effectively at a very young age. Rather than having time to procrastinate, Aubuchon's busy schedule keeps him on track and on top of his game. 
Once his undergraduate studies are complete, Aubuchon envisions living in Toronto, working at an insurance company, or as a financial consultant. As an actuary, Aubuchon will be involved with managing pension plans, investing cash flow, and determining the financial impact of risk and uncertainty. "Whether we like it or not," Aubuchon comments, "money and the financial aspect of our lives is extremely important." Helping others learn to manage their money, and create financial stability and prosperity is critical to ensuring the financial health of our country and it is the noble focus of Aubuchon's career aspirations.
The gridiron grind, the wins and losses, and the team rapport: all aspects of the game that drew Aubuchon onto the football field from an early age. Most intriguing was the strategy and the science behind the sport. "My strength lies in the knowledge of the game," says Aubuchon, and it is part of what's kept him involved in this highly competitive sport through high school, Bishop University, and now at Western.  "Football teaches you a lot about life, in that you must work hard for your reward" comments Aubuchon, a reserve quarterback for the Western Mustangs Football Team. Aubuchon plans to stay involved with the football community, sharing his knowledge and skill of the game with future generations as a high school or community league coach after he receives his degree.
Football continues to mould Aubuchon's values of trust and team and quench his thirst for competition while statistics and actuarial sciences feed his intellect. Together, these distinct passions contribute to the making of a future community leader.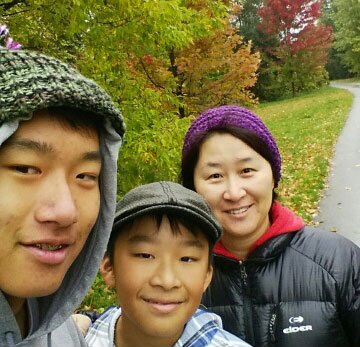 Financial, social, or familial responsibilities: all can affect the decision to continue or enhance one's education and career choices. For mature student Moon Lee, family responsibility is one of the biggest influences that brought her back into the realm of education. Lee is in her second year of Statistical and Actuarial Sciences at Western University. In 2010, Lee and her family made the big move from Korea to London, Ontario, with the desire to raise her children in a multi-cultural environment, with fair educational opportunities. "The Korean education system can be very competitive, and I don't want my children to experience that kind of pressure growing up," says Lee. In Korea, Lee received a Bachelor in Engineering, a Masters in English Translation, and worked as a stock trader and a translator. Coming to Canada, Lee made the tough decision to go back to school in order to expand her career opportunities and provide for her family.
"I was reluctant coming back to school having English as my second language," comments Lee, "but I tried and I made it." With newfound confidence, Lee dove into her studies at Western, even earning a top GPA while taking care of her family. You may wonder how she managed. Lee says it's all about living a simple life. "I try to make my life very straightforward and get rid of any distractions," she says, as they only result in stress and make you lose sight of what's really important: getting an education and a job that will support your family. To accomplish this, Lee arrives at school at the same time every morning and leaves at the same time every night, regardless of when her classes end. Managing her time into this schedule allows Lee to focus on completing assignments and studying at school, and on her children once she's home.
Lee's husband and their two boys, ages 10 and 14, have been the driving forces in her life. "My family is the biggest motivation for me," Lee says, "I want to be a mother that my children are proud of, to be a role model for them. I want to show them that I never give up." Moreover, Lee wants her motto to make an impact in their lives; to be a contagious motivator. "I believe that failing is ok if you give it your best effort; you learn something from that failure," says Lee, "if you don't give up, you're more likely to succeed." This is a message Lee hopes will inspire her children and people considering going back to school.
After Lee completes her undergraduate studies in Statistical and Actuarial Sciences, her ultimate goal is to become a university or college professor. For the time being, Lee is looking forward to a 2015 summer internship at London Life, which offers her the opportunity to gain experience in her field and potentially, financial stability right after graduation. Her can-do attitude is certainly a force with which to be reckoned and the results at home and at school to date speak for themselves.