German Language and Culture
German Language and Culture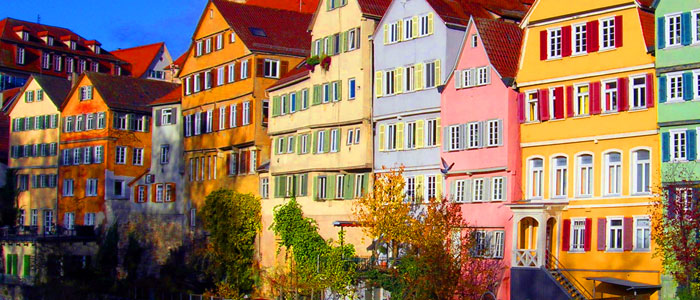 By studying German at Western, you can gain a solid foundation in the language of Europe's most influential economy and explore the culture in which figures such as Bach, Goethe, Mozart, Nietzsche, Brecht, Kafka, and Benjamin lived and worked and in which recent Nobel Prize winners, Elfriede Jelinek and Herta Müller, are thriving.
Since September 2013, Western has offered a new program in German Language and Culture featuring eight highlights:
Learn the German language through a multi-media, communicative approach, that focuses on the cultures of all German-speaking countries and integrates authentic materials such as articles, websites, film and literature
Engage in hands-on intercultural experience through community service learning
Practice your German skills in specialized translation, business and conversation classes
Expand your horizons through courses on popular topics such as German-Jewish literature, fairy tales, the history of ideas, or nature and the environment, taught in English with a tutorial in German
Develop your discussion skills and build writing and research skills in German guided by one core faculty member in conjunction with specialists as early as second year in Exploring German Culture
Investigate and analyze culture through upper year seminars about German literary, visual and performing arts, covering periods from the medieval, classicist, romantic agesto the contemporary culture of unification and integration or about cities such as Vienna and Berlin
Choose your final-year capstone experiences in research seminars or project courses, or by completing an undergraduate honors thesis
Challenge yourself with study abroad or exchange and receive credit at Western
Begin your German studies in first year with German 1030 and graduate with a Practical Certificate in German (3.0 courses). Become proficient in one of the most important languages of the European union through three streamlined full-year language and culture courses that you can compliment with optional half-courses in conversation, business German, translation or culture. The Practical Certificate in German will be an asset to careers in business, science, including environmental science, and the arts. 
The Minor in German Language and Culture (4.0 courses) allows you to acquire a thorough grounding in German language combined with a taste of the richness of German culture. With only two required language and culture courses, this open and flexible module offers you the choice of a range of upper year courses in culture that add value to any degree, be that in Music, Science, Business or World Literatures and Cultures. 
Choose a Major in German Language and Culture (6.0 courses) to acquire excellent levels in speaking, writing, reading German and a firm background in the visual arts, literature, film and socio-political developments of German-speaking countries. Learn German through language courses, translation, and conversation and acquire a grounding in culture through Exploring German Culture complemented by your choice of upper level courses on cities such as Berlin or Vienna or on epochs of transition, including the contemporary. This module is ideal for students taking a double major who are interested in careers related to creative industries, international relations, communication, or business in Europe.