Master's Degree in Applied Health Sciences

A Fully-Online Master's Degree
The Master's Degree in Applied Health Sciences aims to promote leaders in health. The program's foundations are universal health promotion and health education, evidence-informed health interventions and efficient and effective supports for individuals throughout the lifespan.
Students are required to successfully complete a total of six courses in addition to the Knowledge Synthesis and Application Capstone Learning Experience to earn a Master's Degree in Applied Health Sciences.

2 mandatory courses (1.0 credits)
Critical Appraisal of Health Literature (9013) Critical Thinking in Health Sciences (9001)  

2 online courses (1.0 credits)
From a chosen area of concentration 

 2 online courses (1.0 credits)
Offered as electives, including courses in the remaining areas of concentration 

Capstone Experience (0.5 credits)
A course unique to each learner that will integrate theoretical and practical knowledge, skills and abilities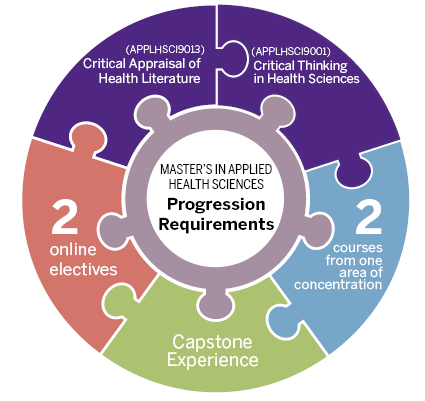 Applications open November 1 and close April 1.
Applications received after the deadline will be considered if space in the program is available. 
See the Admissions and Eligibility section for more information on how to apply.
Applicants must meet the following admission requirements:
An undergraduate degree from a recognized university

Minimum B average based on the last two years or 20 half credits of study

Advanced computer skills
Two references

One academic (if attended university within the last five years) and one professional

Demonstrated English language proficiency, including both written and oral communication
Applicants whose first language is not English must provide evidence of English language proficiency (TOEFL or IELTS is recommended)
A minimum TOEFL score of 620 (paper-based), 105 (internet-based), 260 (computer-based) or an IELTS score of 8 is required
Completion of the Supplemental Questionnaire
Evidence of prior work experience in a health-related field may strengthen the application
Those interested in applying must do so through the School of Graduate and Postdoctoral Studies application portal. When creating an application, applicants should select 'Advanced Health Care Practice' as their Academic Program, and then select the 'Master's in Applied Health Sciences' as their Academic Degree.
The Master's Degree in Applied Health Sciences is designed by leaders in the fields of education and healthcare with input from students and employers. Over the course of study, students will learn to:
Appraise the scope and complexity of the body of knowledge in health sciences and health care
Differentiate among various facets of health sciences and explain their interconnections
Value the interrelationships of health knowledge applied by different professions and disciplines
Articulate one's belief systems about professional practice and reflect on one's individual behaviours
Develop an understanding of the concepts of critical thinking and critical analysis, and appreciate how these approaches inform the examination of health and healthcare
Defend the choice of research methodologies in examining, creating, and recommending health care alternatives
Use appropriate research strategies to explore health information
Synthesize complex knowledge in a rapidly evolving health-sciences evidence base
Articulate verbally and in writing relevant arguments of complex issues grounded in ethical principles and practices
Critically analyze health issues in light of new and existing knowledge and perspectives, through application to a range of health questions in variety of contexts
Formulate new inferences based on critical analysis contribute to human health potential through critical understandings and appraisal of complex health information and Interprofessional and interdisciplinary health  contexts
Reconcile one's understandings of personal health values with those of others
Act in accordance with one's ethical and moral compass to reflect equity, fairness, and accountability for one's behaviours articulate integrated understandings of health sciences to diverse audiences
Formulate informed and convincing arguments within inter-professional and interdisciplinary teams
Express value judgments with appreciation of others' value systems critically appraise the inherent complexities of human health and health systems
Evaluate the diversity of perspectives on health and health care
The Capstone Experience consists of a mentorship opportunity in the student's area of concentration. A minimum of 100 hours will be completed under the supervision of one or more approved mentors in a health setting. Students will identify potential mentorship opportunities within their own community. Together, with their academic mentor (appointed by the Program), an appropriate, available opportunity will be secured.
Students must complete the mandatory course before commencing mentorship hours. Students will consult with their professional mentors and a faculty supervisor to determine learning objectives and goals for the duration of the capstone experience.
The Master's Degree in Applied Health Sciences is designed to be completed full time over three academic terms (12 months).
For information about Tuition and Fees, click here.
For general program inquiries, please contact ahcp@uwo.ca. To contact a member of our administrative team directly, please visit our directory.