Graduate Diploma in Applied Health Sciences

Fully-Online Graduate Studies
The fully-online Graduate Diploma in Applied Health Sciences provides learners with the opportunity to develop both a comprehensive understanding of health systems and in-depth knowledge in one area of concentration. The program is responsive to the current educational needs in a rapidly changing health landscape. Students will gain the knowledge and skills to grow as leaders, interdisciplinary colleagues and advocates of health.
The online diploma program offers students flexibility of time and location; learners can customize their course load and program duration (within a five-year period).
Students are required to successfully complete a total of five courses to earn a Graduate Diploma in Applied Health Sciences.

1 mandatory course (0.5 credits)
Critical Thinking in Health Sciences (9001)

2 online courses (1.0 credits)
From a chosen area of concentration

2 online courses (1.0 credits)
Offered as electives, including courses in the remaining areas of concentration

Applications open October 15 and close July 1.
Applications received after the deadline will be considered if space in the program is available.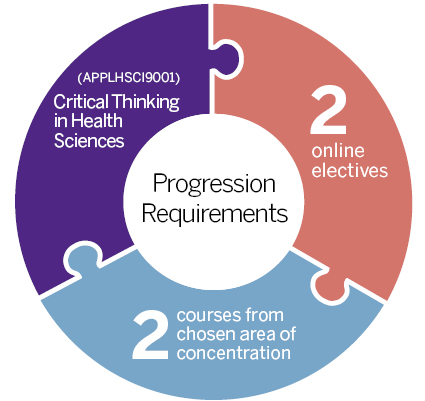 Applicants must meet the following admission requirements:
An undergraduate degree (or equivalent) in the area of health sciences, from an accredited university, college or institute
Minimum B average based on the last two years or 20 half credits of study
Demonstrated English language proficiency, including both written and oral communication

Applicants whose first language is not English must provide evidence of English language proficiency (TOEFL or IELTS is recommended)
A minimum TOEFL score of 620 (paper-based), 105 (internet-based), 260 (computer-based) or an IELTS score of 8 is required

Advanced computer skills
Learners who hold an undergraduate degree, or equivalent, in an unrelated field and have at least two years of appropriate, full-time employment experience in the health sciences may be admitted on a case-by case basis.
The Graduate Diploma in Applied Health Sciences is designed by leaders in the fields of education and healthcare with input from students and employers. Over the course of study, students will develop:
Critical understanding of current and projected health demographics
Critical knowledge of one area of concentration within the health sciences
Awareness of different facets of health science and their interconnections
Appreciation for how health demographics are reflected in, interpreted and applied by different professions/disciplines
Critical knowledge of the complex and rapidly growing landscape of health information
Understanding of and competency with the appropriate research techniques to effectively explore this health information
An efficient approach to keeping ahead of the rapidly evolving health information base
An ability to analyze a range of health issues by applying current knowledge and perspectives
Insight into one's capacity to contribute to human health through understanding current health knowledge and research techniques
An ability to apply an advanced understanding of health issues to one's personal health employment environment
Requirements for the Graduate Diploma in Applied Health Sciences can be fulfilled in:
20 months, assuming one course is taken each semester
12 months, assuming two courses are taken each semester
All five courses must be completed within a five-year period.
$1,418 per course for domestic students
$2,900 per course for international students
Ancillary fee of $70 per semester
For general program inquiries, please contact gdahs@uwo.ca. To contact a member of our administrative team directly, please visit our directory.