Clinical Epidemiology and Research Management
Clinical Epidemiology and Research Management Master's Program

Excellence in Clinical Research
Interested in learning more about this program?
Complete the form below to get started.
The Clinical Epidemiology and Research Management master's program (CERM) is a one-year, hybrid program that gives you the skills needed to build and lead research teams, design fundable studies, build and maintain the infrastructure needed to successfully carry out clinical research, and advance evidence-based thinking in your field. This hybrid programs means you will study online through asynchronous and synchronous learning opportunities and take advantage of networking through two short in-person residency periods.
Across the year-long program you'll develop practical skills related to:
Clinical research methods
Biostatistics
Critical appraisal and evidence-based practice
Grant writing, research administration and knowledge mobilization
Clinical Research Leadership
Western's CERM program promotes team-building and evidence-informed thinking. You'll gain competence as a clinical research leader capable of building and maintaining quality research teams whose outputs contribute to evidence-informed decision making.
Program Highlights
The CERM program's MBA-style case-based approach gives you the tools to make meaningful contributions to the discussion and advancement of thought in your field. Two on-site residency periods allow for student interaction and for students to:
Understand research methodology and evidence-based medicine methods
Learn how to properly initiate, lead, and manage a research study
Develop quality research questions
Learn how to build, lead and mentor a research team
Understand data interpretation and analysis
Explore successful grant writing
Learn the importance of writing and justifying a budget for your study
Develop communication strategies that lead to effective knowledge mobilization
Admission and Applying/Tuition and Fees
Prospective students are advised that offers of admission may be made only after the university's own quality assurance processes have been completed and the Ontario Universities Council on Quality Assurance has approved the program.
Capstone Experience
The Capstone Experience consists of a mentorship opportunity in the student's area of concentration. A minimum of 100 hours will be completed under the supervision of one or more approved mentors in a health setting. Students will identify potential mentorship opportunities within their own community. Together, with their academic mentor (appointed by the Program), an appropriate, available opportunity will be secured.
Students are expected to secure mentors in the Fall term. Students will consult with their professional mentors and a faculty supervisor to determine learning objectives and goals for the duration of the capstone experience.
Learning Outcomes
Upon successfully completing the program, students should have the ability to:
To locate and critically analyze the scientific literature to inform decision making in your field
To formulate research questions that are unique and advance the science in your field
To design clinical research using the appropriate methods to test research questions
To synthesize relevant literature to create evidence informed recommendations in your field
To build and lead research teams and build and maintain research infrastructure
To write grant proposals to funding organizations for clinical and methodologic research
To communicate and apply ethical principles and practices in research activities
To develop communication and dissemination strategies for knowledge production from clinical research
To develop iterative self-reflection skills for continued life-long learning
Program Structure and Course Offerings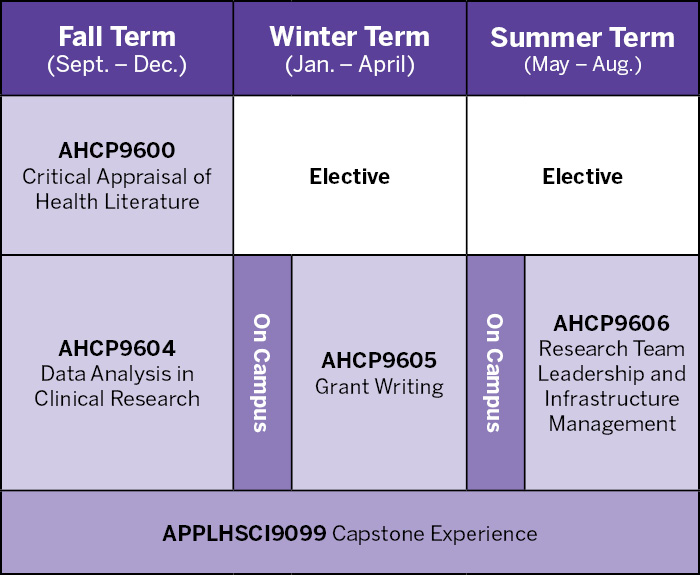 AHCP 9600: Critical Appraisal of Health Literature
AHCP 9604: Data Analysis in Clinical Research
APPLHSCI 9099: Capstone Experience
Elective #1 (see below for options)
AHCP 9605: Grant Writing
APPLHSCI 9099: Capstone Experience (continued)
On Campus Residency
Elective #2 (see below for options)
AHCP9606: Research Team Leadership and Infrastructure Management
APPLHSCI9099: Capstone Experience (continued)
On Campus Residency
Students in the program are required to complete two of the following elective courses:
APPLHSCI 9009: Project Management
APPLHSCI 9010: Health Services, Systems and Policy
APPLHSCI 9012: Health Program Evaluation
APPLHSCI 9015: Evidence-Based Leadership in Healthcare
APPLHSCI 9016: Economic Evaluation for Health Innovations
APPLHSCI 9017: Implementation Science in Practice
Learn more about our elective course offerings.
As a student in Advanced Health Care Practice master's program, you're eligible for advanced standing toward the Certified Health Executive (CHE) designation.
The CHE is Canada's top professional leadership designation for healthcare leaders looking to expand their institutional leadership career.

Western is now a LEADS Canada certified learning provider supporting the CHE designation. The LEADS framework was established by the Canadian College of Health Leaders (CCHL) and addresses health leadership for individuals, organizations, and broader systems.
If you opt in to the CHE, you must complete the following:
Submit a detailed project proposal by mid-September, 2023
Complete APPLHSCI 9001 and APPLHSCI 9015
Complete a LEADS 360 Assessment and 90-minute debriefing
Complete a CHE-designed capstone experience that includes:

Meeting regularly with your CHE mentor
Developing an organizational change, strategic planning or program evaluation project
Organizing and facilitating a program-wide leadership day in collaboration with the other CHE students
For more information, email: ahcp@uwo.ca