Apparel
System Maintenance Alert!!

Our payment system is currently undergoing maintenance. We apologize for the inconvenience. Please email us or call 519.661.2111 ext. 87220 for assistance placing a shop order or processing certification or course registration payments. The CCAA is currently accepting credit card (Visa or MasterCard) payment over the phone.
We apologize for the inconvenience.
Look and feel like a pro in these lightweight, breathable t-shirts. The soft fabric wicks away moisture and sweat leaving you feeling fresh and dry throughout your workout.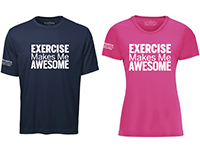 NEW! Dry-fit slogan tee (Exercise Makes Me Awesome)
Moisture wicking, 100% polyester jersey knit, easy care fabric, tag-less label, motivational slogan screened on chest, CCAA logo on sleeve.
Available in raspberry or navy, men's and women's sizes XS-2XL
$26.55 + applicable tax
---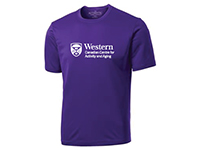 Dry-fit CCAA logo tee
Moisture wicking, 100% polyester jersey knit, easy care fabric, tag-less label, CCAA logo screened on chest.
Available in purple or black, men's and women's sizes XS-2XL
$26.55 + applicable tax
---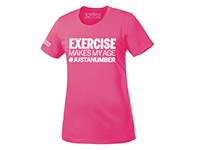 Dry-fit slogan tee (#justanumber)
Moisture wicking, 100% polyester jersey knit, easy care fabric, tag-less label, motivational slogan screened on chest, CCAA logo on sleeve.
Available in purple or neon pink, men's and women's sizes XS-2XL
$26.55 + applicable tax
---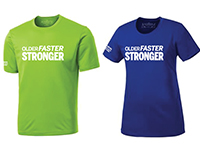 Dry-fit slogan tee (Older, Faster, Stronger)
Moisture wicking, 100% polyester jersey knit, easy care fabric, tag-less label, motivational slogan screened on chest, CCAA logo on sleeve.
Available in royal blue or neon green, men's and women's sizes XS-2XL
$26.55 + applicable tax