Rechnitzer Lecture Series
Rechnitzer Annual Lecture Series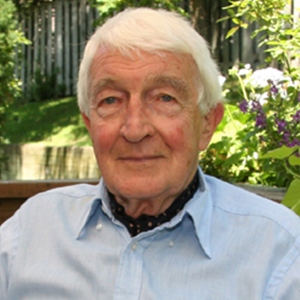 The Rechnitzer Annual lecture is given by an invited speaker who is highly-regarded and recognized nationally and internationally for work in the areas of exercise, well-being and aging. The lecture also provides a platform for bringing together its invited speaker with CCAA's Research Associates to promote scholarly dialogue and to explore research collaborations in the area of exercise, activity, health, well-being and aging. The lecture recognizes the outstanding contributions of CCAA co-founder Dr. Peter Rechnitzer. 
About Peter A. Rechnitzer
Peter Rechnitzer was a practising physician who donated his efforts and expertise to combine research with practical application. He and Professor David Cunningham co-developed the idea for a research centre that focuses on physical activity in people ages 55 to 90 years. He enthusiastically joined with scientists, Professors Cunningham and Donald Paterson, and Nancy Ecclestone to develop the Centre for Activity and Aging.
Explore topics discussed at past Rechnitzer Lectures
Click on presentation title to go to lecture recording in Vimeo
Year
Lecturer
Title/Topic
2019

Dr. Manuel Montero Odasso
Western University

Dr William McIlroy
University of Waterloo

Multidomain Interventions to prevent Dementia. The Synergic Trial.

From the Lab to the Clinic and now @Home: Advancing the assessment of balance, mobility and activity in older adults.

2016
Don Paterson, PhD
Western University
30-years of Exercise and Aging: Prescription for Successful Aging
2015
Stuart M. Phillips, PhD
McMaster University
A Mantra for Active Aging: Eat Well, Move Lots, Be Strong. Live Long.
2014
Russell T. Hepple, PhD
McGill University
Golden Oldies: What Elite Octogenarian Athletes Tell Us About Optimal Aging
2013
David Hood, PhD
York University
Can Exercise Rescue Aging Muscle?
2012
Lawrence L. Spriet, PhD
University of Guelph
Human Skeletal Muscle: Our Maginificent Energy Producer for Movement and Exercise
2011
Dr. Edward Lakatta
Laboratory of Cardiovascular Science,
National Institute of Aging,
National Institutes of Health
Stress of aging viewed from the cardiovascular system
2010
Judy M. Muller-Delp, PhD
Department of Physiology and Functional Genomics
University of Florida
Effects of Age and Exercise on Endothelial Function in Skeletal Muscle: Role of Reactive Oxygen Species
Year
Lecturer
Title/Topic
2009
Walter R. Frontera, MD, PhD
University of Puerto Rico
Aging Muscle Fibres and Exercise
2008
David N. Proctor, PhD
Penn State University
Blood Flow to Exercising Muscles: New Insights to Age-Old Questions
2007
David C. Poole, PhD
Kansas State University
Muscle Microcirculation in Healthy Aging: Inconvenient Truths
2006
KE Conley, PhD
University of Washington Medical Centre
Age, Exercise and Adaptation: The Mitochondria Link
2004
Archie Young, MD
University of Edinburgh
Exercise After 80
2003
Kevin K. McCully, PhD
University of Georgia
Evalutating the Role of Oxygen in Skeletal Muscle with Radiofrequencies, Light and Sound
2002
David A. Cunningham, PhD
School of Kinesiology, Western University
Aging Research: The First 35 Years
2001
Norman L. Jones, M.D.,F.R.C.P.(London), F.R.C.P.(C)
McMaster University
Sensory Aspects of Exercise in Aging
2000
Loring B. Rowell, PhD
University of Washington Medical Centre
Why do we Require a Second Heart during Exercise?
Year
Lecturer
Title/Topic
1999
Bengt Saltin, M.D.
University of Copenhagen
Mechanisms for Matching Oxygen Delivery to Energy Demands in Contracting Skeletal Muscle
1998
John A. Faulkner, Ph.D.
The University of Michigan
Muscle Atrophy, Weakness, Fatigue, and Injury: Inevitable Concomitants of Aging
1997
Brian Whipp, Ph.D.
St. George's Hospital Medical School
Oxygen Utilization and Exercise Tolerance: A 2000 Year Perspective
1996
Jerome A. Dempsey, Ph.D
University of Wisconsin-Madison
Biological Determinants of Maximal Exercise Performance
1995
Doug Seals, Ph.D
The University of Colorado
Exercise and Aging: Autonomic and Cardiovascular Adaptations
SFIC Certified? Take Note!
Live, online attendance at these lectures counts as a partial (i.e., one third) of a Continuing Education Credit (CEC) for SFIC recertification. To submit this event as a partial CEC please upload a copy of the initial Zoom confirmation of registration email to one of the CEC requirements on your progress report. Your attendance in the webinar will be confirmed by the CCAA in the Zoom attendance data. Remember, one CEC is granted for 3 hours of live or online learning. Therefore, this webinar must be combined with another 2 hours of learning to complete one CEC requirement for SFIC renewal. Learn more about uploading requirements to complete SFIC renewal on the FAQ page.

Learn about recent developments around CCAA courses and COVID-19 on the Update for Course Participants page.