SASAH Visiting Research Fellow: CBC's Paul Kennedy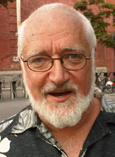 The 2016/17 SASAH Visiting Research Fellow is Paul Kennedy, host of CBC's Ideas. Throughout the academic year, Paul will host a special series of master classes for students enrolled in their fourth year of study in The School for Advanced Studies in the Arts & Humanities. The series, entitled Ideas about the Humanities: Encounters with Paul Kennedy and Friends, features a variety of hot topics, in dialogue with a range of extraordinary guests, including Sally Armstrong, Joe MacInnis, Richard Susskind, Michael Stadtländer, David Bentley, Kathrine Switzer, Zita Cobb, and Payam Akhavan.
Each week's class takes place on Fridays from 1:30 to 3:30 pm and is open to all SASAH and Western students, faculty, alumni, as well as the general public. Following the open session is a closed session exclusively for Year Four SASAH students. 
Schedule of Guests:
Friday, September 30: Sally Armstrong
Friday, October 21: Joe MacInnis
Friday, November 18: Richard Susskind (via Skype)
Friday, December 2: Michael Stadlander
Friday, January 17, 2017: David Bentley
Friday, February 3, 2017: Kathrine Switzer (via Skype)
Friday, March 3, 2017: Zita Cobb
Friday, March 24, 2017: Payam Akhavan
Friday, March 31, 2017: Jim Stayer
Come join us for what promises to be an unforgettable discussion about the legacy and importance of the humanities in Canadian culture and history, facilitated by one of Canada's premier media presences.
Classes take place in Arts & Humanities Building, Room 2R23 on campus at Western University.
Please let Jennifer Tramble, SASAH Program Coordinator, know if you would like to attend one of Paul's lectures as a guest:
EMAIL jtramble@uwo.ca PHONE: 519 661-2111 ext. 87996