Staff Spotlight
Gail is on the Facilities Management team and works in University College. 
All about Gail: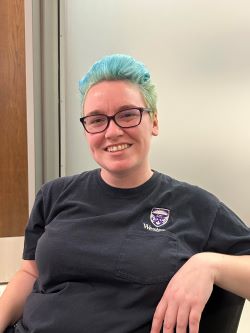 If you spend any time on the second floor of University College, you will notice something.. that is is super clean and smells amazing! Gail has been a caretaker at Western for almost a decade and is a bright light for all! Her cart often has a supply of goodies for students, staff and faculty, and you can often hear her singing while she works!
We are so grateful for Gail and the FM team for all the hard work they do!
 A little about Gail:
She is an avid Harry Potter fan. If you are too, stop and have a chat, she will be thrilled! She also has the sweetest reptilian pet named Puff.
Gail's best advice for students - get to know your caretakers and have fun!!