TK Sham

TK Sham, of the Department of Chemistry, knows Western like the back of his hand – after all, he's been here since his time in graduate studies over 40 years go. "During my chemistry undergraduate in Hong Kong, I had a professor, Thomas Mak, who came from Western. I took his advice to come to Western" laughs Sham. And if that kind of consistency weren't enough, he has dedicated the bulk of that time to the use of a single type of analytical machine: the synchrotron. "Just like I've had the chance to watch Western's campus and community thrive and grow over many decades, I was also lucky to be a part of the development of this incredible analytical tool for my entire career," says Sham.
The synchrotron allows for the investigation of advanced materials at the nano-scale, in ways that would not be possible in a traditional lab setting. Sham and his group create materials for a variety of applications including energy materials, drug delivery compounds designed to help pharmaceuticals pinpoint the parts of the body where they are intended to act, and bone implant components, like artificial hips and knees, which also promote bone re-growth in patients.
"With the synchrotron, we can also characterize these advanced compounds with a level of detail that would otherwise be impossible," explains Sham. "The drug delivery compounds are like a shuttle for medicines, dropping them off to the kidneys, muscles, or wherever they're needed. To make the system work, we need a very detailed pick-up and drop-off routine that can only be tested with the synchrotron."
"I have now seen four generations of this incredible device around the globe, and the scores of learning opportunities it has unlocked for researchers." - TK Sham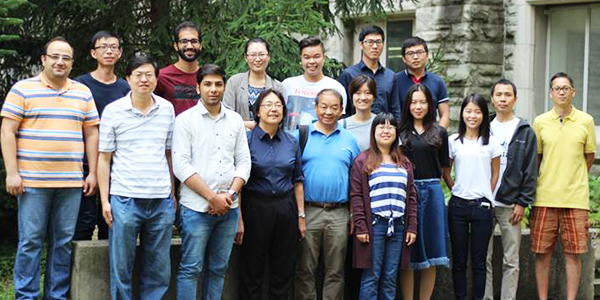 Sham's involvement with the synchrotron extends all the way back to his PhD supervisor, Mike Bancroft, who lobbied Western to become a pioneer in a radical way of learning about the molecules around us. A student at the time, Sham began his experiments in Wisconsin in an offshore lab operated by Western. "I've been hooked ever since!" exclaims Sham. Bancroft and Western, together, pushed for Canada to become a world-leader in synchrotron research – a status the country retains to this day. "I have now seen four generations of this incredible device around the globe, and the scores of learning opportunities it has unlocked for researchers."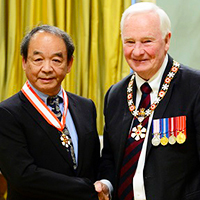 The decades spent pushing limits of what was dreamed possible in the field of materials and synchrotron earned Sham an Order of Canada in 2016 – one to match Bancroft's for his ground-breaking work. "What really makes this machine stand out is its applicability to all areas of science and engineering, as well as archaeology in cultural and heritage fields," says Sham.
His energetic commitment to the synchrotron has enriched the lives and research of colleagues and students around him, in chemistry and beyond, and ensured Canada's enduring tenure on the cutting edge for the next generations of scientists.
 To balance out a career dedicated to synthesizing and characterizing nanomaterials, Sham is an avid painter and gardener, who also plays a bit of violin on the side. "I think the secret that's kept me kicking this whole time has been maintaining a variety of interests," reflects Sham. "I started doing paint nights at a café, and now I just paint on my own." Sham's supervisor from the 70s, Bancroft, is still at Western as an emeritus professor. "If he can do it, I can do it!" exclaims Sham – quick to dispel any notions of ending a marathon career by the side of his beloved synchrotron.