Construction Update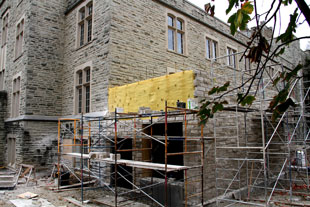 Progress and Mliestones
Construction is on schedule.
Construction began Summer 2016. The following are some of the milestones expected in the coming months:
November 2015 - Early works package - existing building study and review of condition.
January 2016 - User group workshops and building committee meetings, in-house design charettes, and cost estimates.
February 2016 - Building committee meetings, consultant engaged, prepare outline specs and develop character, materials, and details.
April 2016 - Consultant coordination, develop and coordinate drawings, schedules and specifications, submit for building permit.
May 2016 - Issue documents to pre‐qualified contractors, tender abatement, tender exterior Windows and tender main building renovation.
June 2016 to September 2018 - Construction period.
The general contractor is Tonda Construction Ltd. Tonda was recently contracted to complete the Music Building construction project, as well.
News and Media
CTV Interview with PM. Fred Janzen: http://london.ctvnews.ca/video?clipId=1082451
Western News article by Adela Talbot: http://news.westernu.ca/2017/06/renos-reveal-long-hidden-beauty-university-college/
Service Interruption
Site surveys will have a minimal impact on the adjacent facilities and thoroughfares. Once construction begins, there may be significant, intermittent interruptions to select services. Significant service interruptions will be tweeted (@westernuFM) and posted on this page.
Project Size:
Nearly 120,000 sq. ft.
Classes Start: Sept. 2018
Project Location:
Central campus. At the crown of UC Hill.