Parking Tip of the Month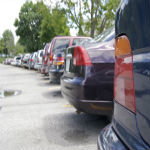 Your first/new permit of the school year must be purchased online by completing a permit application. Permits may take up to 3 business days for processing. The fastest way to receive your permit renewal sticker is to check the "Hold for pick up" option on your application form; we'll email you when your sticker is ready to pick up at the Parking Office. New parking permits requiring a transponder must be picked up at the Parking Office. Please bring your Western ONECard and vehicle ownership with you for validation.
Announcements
Notice of early closure:
Friday, August 29th Parking and Visitor Services, along with the Keys Counter, will close at 3:00 pm. We will reopen on Tuesday, September 2nd at 8:30 am. Please utilize our online services during this time. Thank you!
2014/15 Academic Year Permits
We are now processing Faculty/Staff Permits and Student Permits for the 2014/15 academic year. All applications must be completed online.
What We Offer