PT lecturer wins pair of prestigious awards
Heather Gillis, a lecturer in Western University's School of Physical Therapy, recently received a pair of prestigious awards in recognition of her outstanding contributions to teaching, leadership and advancing the practice of musculoskeletal physiotherapy in Canada.
In late April, she was announced as a recipient of Western's Marilyn Robinson for Excellence in Teaching. Also in late April, at the Canadian Physiotherapy Association Orthopaedic Division Symposium, she was presented with the David Lam Memorial Golden Hands Award.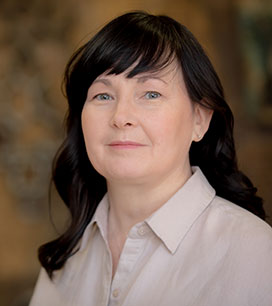 Heather Gillis, School of Physical Therapy
Both of these awards centre around Gillis' dedication to using her knowledge, skills and experience to help other advance as clinicians and leaders. In her role as program chair for the Western's Master of Physical Therapy program, she brought together her clinical understanding of the field and her passion for teaching to lead a curriculum renewal process that would ensure the next generation of clinicians was prepared for their careers in a way that set them up for success.
A passionate teacher in the classroom who is "loved by her students", Gillis' contributions to the field of musculoskeletal/orthopaedic physiotherapy are perhaps summarized best by the philosophy behind the selection criteria for the Golden Hands Award.
"The Golden Hands Award is reserved for those who inspire. These exceptional physiotherapists exhibit an infectious passion for discovery, generating new knowledge and testing new techniques that encourages those around them to do the same. This passion allows them to push manual therapy forward through service to the profession and teaching, and it is through the four dimensions of scholarship that this inspiration is best motivated."
Congratulations, Heather, on this incredible recognition of your contributions to Western and to your field.