Exploring the fruits of labour from the career of J.B. Orange
Talented researcher described by many as a friend and selfless collaborator, mentor, advocate and champion for others  
By Andy Watson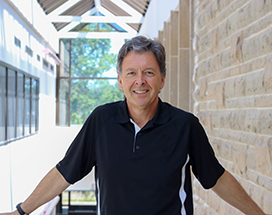 After more than three decades with the Western University family, Communication Sciences and Disorders professor J.B. Orange is retiring; the campus will be saying farewell to a highly respected researcher, teacher, mentor and friend.  
"JB" arrived at Western in 1992 as an assistant professor, coming from the State University of New York (SUNY) in Buffalo. A speech-language pathologist (SLP), Orange quickly forged a path as a highly credible teacher and researcher, positions that have afforded him the opportunity to mentor and impact students along with peers with whom he has engaged in research.    
In addition to serving three times as director for the School of Communication Sciences and Disorders, cumulatively for almost a decade, Orange will perhaps be best remembered as a trusted colleague, friend and champion for the work of others.    
"What I've learned with those whom I've worked with and research participants and students, it's been nothing short of spectacularly amazing… translating that into knowledge for myself and others. It's a privilege," Orange says. "It's about those who come after you, the students I've taught over many decades. I hope some of what I've taught them, like spaghetti on the wall, that it sticks."    
Orange says he's especially proud of his work with older adults, as very few SLPs focus on the geriatric population. He's also proud of his research on discourse and the examination of language performance beyond single words, specifically the work he's done with individuals living with ALS (Lou Gehrig's Disease) and related cognitive and language problems.    
"Communication is the keystone of human interaction; without it, your social interactions are non-existent. Communication is the glue that keeps us all together and reaffirms who we are as humans. When those (skills) are taken through trauma or developmental issues, it's profound how much is stripped away from someone," Orange says. "I hope I've been able to add a few tiles to the larger mosaic to describe language and communication challenges with older adults."     
"Communication is the keystone of human interaction; without it, your social interactions are non-existent. Communication is the glue that keeps us all together and reaffirms who we are as humans."
Angela Roberts, a professor in Western's School of Communication Sciences and Disorders, has worked with Orange in research used worldwide, exploring changes in language as markers of cognitive function, helping to develop interventions for people living with dementia that she says "work on improving communication and intimacy in relationships."     
"Dementia does not just exist with the person who has dementia. Breakdowns in conversations, in communication… something that is happening at the nexus between them and their partners that both facilitates success and causes challenges. That is the central point in which we need to intervene. It was so paradigm-shifting," Roberts says. "Intervention isn't perfect, so we need to drive science to look at implementable strategies."    
Roberts said the impact Orange had on her life goes beyond career support.    
"When (JB) took me on as a PhD student, I was going through some tough times personally," Roberts says. "I can remember sitting in his office and telling him 'if I make this decision and push away everything I've been doing for 15 years for this, can I trust you?'. He knew I was putting my life and future and career and well-being of my family on the line to take this on. I will always remember, he took my hand and said, 'You can always trust me.'"    
This relationship of trust translated into a successful career in academia and research at Western; she is now researching with Orange in these sunset years of his career, and they co-mentor a student together.    
"We've come full circle together," Roberts reflects. "We went from being in a student-mentor relationship, to working on the same grants together, to me now leading my own research program with him being part of my team. Me coming home to try to fill his awfully big shoes is now part of the story."    
"He never failed me as a student studying under him, and he's become a friend, colleague, research partner, and he has always been someone whose integrity to be a person to be trusted, it holds true. His approach has been a guiding force in how I mentor others."    
Lisa Archibald, current director of the School of Communication Sciences and Disorders, replaced Orange and said she is grateful for the trust he placed in her. When she joined the school in 2000 as a clinical instructor, her work was overlapping with the classroom teaching Orange was doing, leading to a research project they worked on together.    
"He was always willing to step up for us, support us. And yet, he's very modest about all he's accomplished and the impact he's made on the school and at Western," Archibald says. "He has real integrity; he's really well liked and has great interpersonal skills and can build bridges and bring us along with him."    
"It's not uncommon for (JB) to say 'how can I help'," Archibald says. "He was always interested in what you were doing and wanted it to be represented as work of the school. We felt like we could go to him and he would do what he could to support you in that work."    
Orange says he has tried to adopt a broad perspective through a multidisciplinary and multi-profession approach throughout his career, so he could understand other fields of study and research. He says it's this broad perspective that opened the door to take on the director role with the School of Communication Sciences and Disorders.    
"This role tapped into my ability to be a team builder and bring people together to get them to rise up, acknowledge that we're in the same boat together with oars, needing to go in the same direction," says Orange, who currently serves as the scientific director with Canadian Centre for Activity and Aging. "I've been able to translate those abilities, skills and knowledge to my colleagues in exercise science to work together and advance the science for how exercise is valuable for older adults. It's a strong foundation to make our place a little better, connecting those who would not have otherwise worked together."    
Orange says he is particularly grateful for the pillar of his family, especially his wife Nadia Amadio, and his children Evan and Hannah, in supporting his success at Western and in research, describing his partnership with Nadia to be akin to that of Canadian geese, "with one of us starting to lead and then taking turns – one helping the other."     
"You make sacrifices together as a team. I could not have done this without Nadia," Orange says. "She has supported me unswervingly throughout my entire career – and she has seen me light up with the passion I would have about the work I was doing."    
"It's been an honour to be a scientist. My job as a researcher is to make people smarter. I hope in my role as a scientist that I've been able to do that."  
---
Andy Watson is a freelance writer based out of Victoria, B.C., and the former sports information director with the Western Mustangs. He holds a Bachelor of Journalism (Hons.) degree from Carleton University and MA in Professional Communications from Royal Roads University.