Fourth Year
Fourth Year Courses
Integrated Seminar (ARTHUM 4410E)
Each year, SASAH's 4th Year Capstone Seminar centers on a specific theme or topic of contemporary significance. Building on students' Experiential Learning and Internship engagements throughout SASAH, the Seminar introduces students to a leading professional from a particular field that complements aspects of their expansive education within the first three years of the program. The Visiting Professor is invited to teach with the support of the SASAH Director and to access resources that enable the development of an ambitious and innovative course offering resulting in a singular opportunity for 4th year students each given year. In an exciting role involved with furthering educational innovation, the Visiting Professor typically invites guest speakers and hosts events involving the students and the wider community, in order to extend the reach and dynamism of the course and the SASAH Program. The curriculum for the course is determined by the Visiting Professor in dialogue with SASAH faculty and in recognition that students will engage with the seminar's themes alongside some of their own research interests and community investments developed throughout their programs. Among the variety of assignments presented by the Visiting Professor, students may be challenged to produce an ambitious campaign or other public presentation; design and execute an Independent Research Project; or design and present an exhibition or video/media program.  
For the 2022-23 academic year we are happy to announce that Ivan Coyote, the Alice Munro Chair in Creativity, is our Visiting Professor. Ivan is a multi-disciplinary artist with three decades of experience as a writer, storyteller, filmmaker and musician. In the fall term, with the guidance of the instructor, students will conceive of, create and present a project containing two or more elements: ex. text and visuals, or music and poetry. Real-world topics will also include grant writing, contracts, timelines, and project outlines. The course is meant for artists and creators who are serious about building and developing their art practice. 
The winter term of the course will be with Dr. Aara Suksi, SASAH Director. In the winter term, under the direction of Dr. Suksi, students will complete Individual Research Projects and a Community-Based Group Research/Creative Project, defined and planned in the fall, which will be informed by a series of relevant assigned readings/viewings.
Pre-requisite: ArtHum 2200E, 2220F/G and 2230F/G
Experiential Learning in the Arts and Humanities (ARTHUM 4490 F/G to 4493 F/G, 4494 W/X)
These courses will capitalize upon the various applied skills acquired in the Program in order to aid in launching students on their future academic or career trajectories. Each course will thus focus exclusively on practical and professional capabilities that complement students' critical and research skills, with an eye to preparing students for any number of fields from postgraduate study, to jobs in the private and public sectors. Students will take up either an internship or a community engaged learning project in any number of settings or in organizations with which the School collaborates: print or digital editing and publishing; public or human resources; cultural event organization; curatorial, museum, or gallery planning; film or video production, etc. The placement-oriented aspects of these courses will be supplmented by classroom-based professionalization workshops in job-searches, interviewing, resume writing, etc.

Students can choose which courses they enroll in. Module requirement is 1.0 courses from ARTHUM 4490F, 4491F, 4492G, 4493G or 4494W/X. Experiential Learning General Syllabus
---
Previous Visiting Research Fellows include:
2021-2022
Dennis Garnhum became the Artistic Director of the Grand Theatre in the fall of 2016; a move that was a coming home for Dennis. Growing up in London, his theatre career began at the Grand with a role in Antler River at age 13.  Since his return to London, Dennis has created several new programs: COMPASS New Play Development Program, 100 Schools educational outreach, and 1000 Seats community initiative.  

Dennis' career has taken him across North America, directing at a number of companies including Vancouver Opera, National Arts Centre, Shaw Festival, Stratford Festival, Tarragon Theatre, Royal Manitoba Theatre Centre, Florida Grand Opera, American Conservancy Theatre (San Francisco), Bard on the Beach, Pacific Opera Victoria, Belfry Theatre, and Neptune Theatre. His co-adaptation (with author Cathy Ostlere) of Lost – A Memoir was nominated for a 2012 Governor General's Literary Award. Before taking on his role at the Grand, Dennis was Artistic Director of Theatre Calgary from 2005 to 2016. During his tenure, eight world premieres were developed and staged. Dennis is a recipient of a Queen Elizabeth II Diamond Jubilee and a Calgary Award for Community Achievement in Arts.  
The topic for the 2021-2022 course was 'Defining Beauty'. What makes something beautiful? How does the notion of beauty translate in a contemporary world, either by looking at a painting, having a unique experience, or witnessing the act of beauty in another? Students explored the defition of beauty in the areas of performance, body, environment, visual arts, words, adventures, and ceremony. 
Examples of student projects can be found online in SASAH's yearbook, Pegasus.
2020-2021
David Simmonds is a member of the expert panel at the Canadian Centre for the Purpose of the Corporation. Most recently, David was Senior Vice President, Communications and Public Affairs for McKesson Canada. A member of the company's executive leadership team, David was responsible for internal communications, external affairs, media relations, government relations, corporate and event marketing, corporate social responsibility and strategic partnerships for McKesson's business units in Canada. His quests included, Evan Dell'Aquilla, Zach Stafford, Del Ray McKesson, Jamie Watt, Helen Kennedy, and Sam Andrey.
For the final project in this course, students were tasked with creating campaigns for change.

Theory and practice of persuasion - "Every day, those with social power have opportunities to drive decisions that impact organizations, individuals, and the public at large. How successful they are rests in large part on their ability to effectively use power, influence, and persuasion to move individuals to 'think, say, or act' in a way that benefits their perspective / POV."
2019-2020
Visiting Professor Jamelie Hassan with students from her ArtHum 4410E course.
Jamelie Hassan is an award-winning visual artist based in London, Ontario, Canada. She has also coordinated numerous cultural programs, including Orientalism and Ephemera (2006-2010). Her mixed media installation works have been presented across Canada and internationally. In 2018 she received an honorary doctorate in Fine Arts from OCAD University, Toronto. Her guests included, Jim Drobnick, Jennifer Fischer, Salah Hassan, John Greyson, and Dr. Tarek Loubani. Jamelie also took her students to the Chippewas of the Thames First Nation, and the Aga Khan Museum in Toronto.
2018-2019

Shelley Niro is a multi-diciplinary artist, and a member of the Six Nations Reserve, Turtle Clan, Bay of Quinte Mohawk. She has worked in a variety of media, including beadwork, painting, photography, and film. Her work challenges stereotypical images of Indigenous peoples. Her guests included, Sam Thomas, Robin Bourgeois, ElizaBeth Hill, and Darlene Naponse. Shelley also took her students to the ImagiNative Film Festival in Toronto.




2017-2018
 
Lainey Lui is a co-host of CTV's The Social, a senior reporter for CTV's Etalk, and the head writer for LaineyGossip.com. Her guests included, Anne Helen Peterson, Jann Arden, and Nico Lang. She also invited her students to a taping of The Social.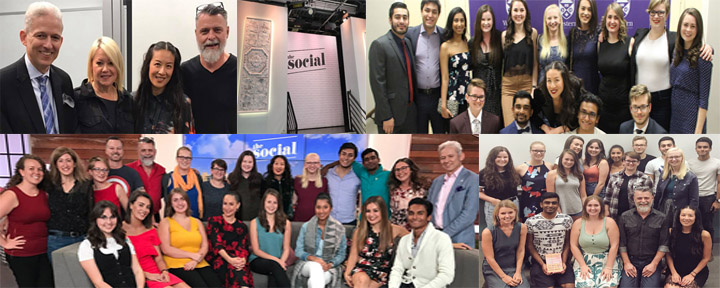 2016-2017



Paul Kennedy has been the host of CBS's Ideas since 1999. His guests included, Sally Armstrong, Joe MacInnis, Richard Susskind, Michael Stadtlander, David Bentley, Katherine Switzer, Zita Cobb, Payam Akhavan, and Jim Stayer.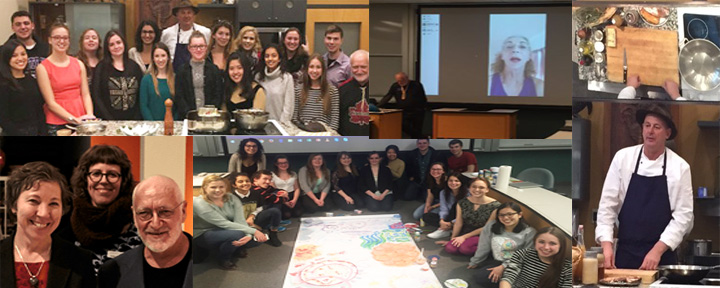 ---