Director's Message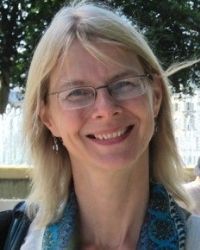 There is no other program like the School for Advanced Studies in Arts and Humanities. As Director, I love the excitement of recruiting each year's new cohort of engaged, diverse, and accomplished students. It is an honour to be able to watch them learn and grow alongside each other, and develop into creative, discerning, and ethical graduates. SASAH equips them with the critical, creative, and professional skills they need for responding to the changing and complex needs of their many communities, ready to embark on whatever path they choose.
SASAH's interdisciplinary curriculum introduces students to the synergistic possibilities of the whole range of Arts & Humanities perspectives. This diversity of approaches helps each student to develop their own creative, inclusive, and informed responses to complex questions and challenges. Language learning is an important element in strengthening our students' self-awareness, intercultural competence, and readiness for global engagement.
Our small, interactive, and discussion-based classes are led by the finest instructors in the Faculty of Arts & Humanities. They encourage critical thinking, creativity, strong communications skills, and the application of diverse kinds of knowledge to students' understanding of human experience.
SASAH's experiential learning credits form a foundational element of the program. Students develop skills, professionalism, and ethical reflection through internships and community-engaged learning with a variety of community partners both locally and internationally.
I am deeply conscious of my good fortune in benefitting from the work of SASAH's past Directors, Professors Joel Faflak and Patrick Mahon, two outstanding and dedicated human beings who have built SASAH into a strong and thriving learning environment. I am so honoured to be part of the extended SASAH community, including students, faculty, staff, community partners, and our Advisory Council of dedicated and accomplished Arts & Humanities leaders.
At SASAH, we all learn together to meet the world with a well-honed skill set and a great range of knowledge, together with humility, generosity, and humanity.
Dr. Aara Suksi, SASAH Director
Learn about our past SASAH Directors here.