Careers
What Can You Do With An Arts Degree?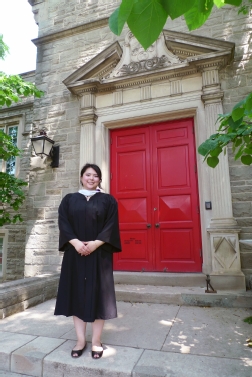 The truth is, there's nothing you CAN'T do! From bank president to performing artist, teacher to fund manager, politician to communications specialist, and everything in between and beyond. Our graduates have gone on to tremendously diverse and exciting careers all across the globe. An arts degree provides our students with some of the most fundamental skills needed to enter the workforce today: communication, critical analysis, problem-solving and creativity. The business world is increasingly seeking arts and humanities grads because they are creative thinkers and have skills to adapt and thrive in rapidly changing environments. With an arts degree, anything is possible!
Did You Know?
Our Third and Fourth Year arts students are eligible to participate in our Job Shadow Program each year in the spring. Explore an exciting career for a day in an area that interests you!
How Liberal Arts and Sciences Majors Fare in Employment
A new report from the National Center for Higher Education Management Systems and the Association of American Colleges and Universities presents a broad view of the employment outcomes of college education—not only for recent graduates, but also for more mature and experienced workers. The report also presents a comparison of employment and salary outcomes for liberal arts graduates and those with a degree in science, mathematics, engineering, or a professional or preprofessional field.
Some possible career paths include: 
Archaeologist
Archivist
Communications
Cultural/Heritage Sector
Education
Foreign Service
Government
Journalism
Law
Library/research
Museum/gallery work
Politics
Public Relations
Translation
Advertising
Business Management
Communications
Corporate trainer
Editorial/Publishing work
Government Service
Law
Library/Archivist
Marketing/Business
Media Coordinator
Non-profit Organization
Public Relations
Publishing
Researcher
Technical Writer
Theatre/Arts Organization
Advertising
Archivist
Camera Assistant
Educator
Film Critic
Film Editor
Filmmaker
Marketing Manager
Museum Staff
Photographer
Production Designer
Web Designer
Advertising
Broadcast Journalism
Business
Customs Officer
Diplomacy
Educator
Government
International Relations
Journalist
Law
Libraries/Archives
Linguist
Politics
Publishing
Tourism/Hospitality
Translator/Interpreter
Audiologist
Broadcast Journalism
Communications
Copywriter/Journalism
Educator
Heritage/Cultural Work
International/Business
Law and Politics
Lexicographer
Libraries/Archives
Linguist
Market Researcher
Social Worker
Speech Therapy
Translator/Interpreter
Business/HR
Communications
Education
Foreign Correspondent
Government
Health Care Sector
International Relations
Journalist
Judicial Interpreter
Law
Language Specialist
Non-profit sector
Policy Analyst
Publishing
Tourism/Hospitality
Translator/Interpreter
Communications
Business
Diplomacy
Editor
Educator
Government
International Relations
Health Care
Human Resources
Intelligence Analyst
Journalist
Law
Legislative Assistant
Libraries/Archives
Politics
Policy Analyst
Psychologist
Advertising
Animator
Archives/Conservation
Art buyer
Auctions/Appraisals
Communications
Cultural/Heritage Sector
Curator
Educator
Fashion/Design
Film/Photography
Graphic Artist
Libraries/Archives
Marketing/Media
Publishing
Retail Merchandising
Archivist
Attorney
Broadcast Journalism
Counsellor
Cultural/Heritage Sector
Educator
Government
International Relations
Journalist
Law
Libraries/Archives
Legislative assistant
Lobbyist
Market Researcher
Non-profit organizations
Politics
Policy Analyst
Publishing